Founded around 1377; Melaka (Malacca) …19th century trading port in South East Asia … melting pot of Malay, Chinese, Indian, European influences … home of 'Nyona Cuisine'. UNESCO World Heritage site since 2008 … 500 years of cultural and trade exchange between East and West via Straits of Malacca.
Confluence of cultures and traditions, Nyona heritage is a unique intermingling of Malay and Chinese cultures, tempered with Western influences over time. From local cuisines; dressing style of 'baju kabayas' (fine Swiss voile blouses with embroidery); traditional Chinese customs; to architectural styles and townscape; Nyona heritage stands apart …
Nyona cuisine, fusion of Malay ingredients prepared Chinese style with Indian and Portuguese touches … 'Beef Rendang' (Spicy Coconut Beef), Babi Pong Teh' (Stewed Pork Belly) and fiery anchovy-based chilli sauce, 'Sambal Belachan' … one of the finest food style in Malaysia.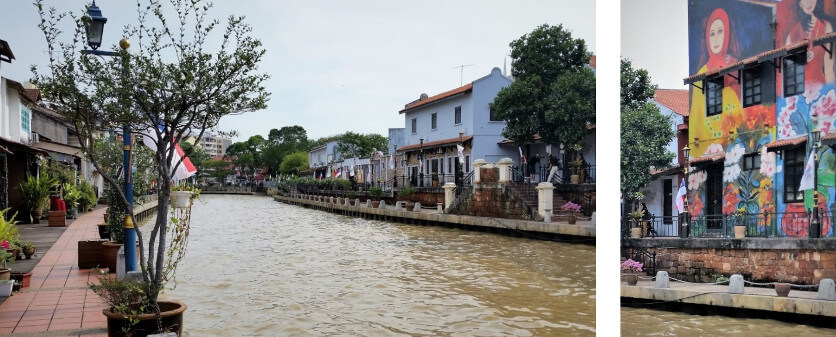 Oldest Malaysian city on Straits of Malacca, Melaka city is located on both sides of Malacca River; opening into Straits of Malacca itself. Melaka reflects a multi-cultural heritage evolved from their strategic location along trade routes from Great Britain and Europe through Middle East; Indian subcontinent, Malay Archipelago to China – shaped by influences from Portuguese, Dutch and British.
Visit a Melaka Heritage Home …
Pair of double front doors, open into Chinese style threshold step-over – warding off evil spirits from entry … high ceilings, offering cool breezes within …
Traditional formal living area, to receive guests and visitors … internal courtyard … a shallow well to collect rainwater; for wealth and prosperity … now equipped with modern plumbing … with enclosed skylight …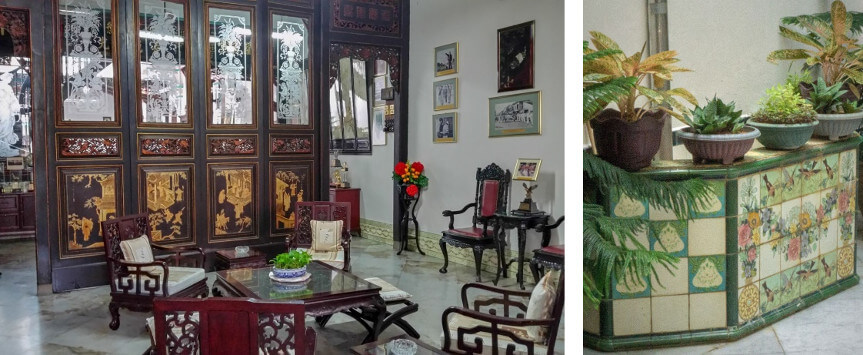 Traditional dining setting; followed by informal dining for large family gatherings, celebrations and special occasions; well-equipped kitchen … side courtyard; second well … mini fish pond for good health and vitality … and herb-floral garden for freshest herbs …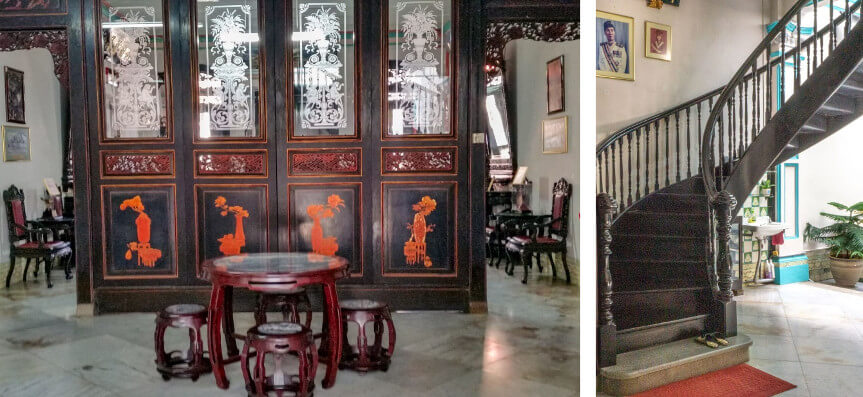 Traditional Chinese hardwood furniture in dark-stained timber … with gold and red stained timber, mother-of-pearl and marble inlays … sweeping staircase aligned with 'fung shui' nuances; ascend to living quarters …
This traditional 'Nyona' terrace or townhouse sits in the UNESCO Heritage List, Residential and Commercial Zone of Melaka, Malaysia.
Fully restored and upgraded to meet modern living standards, this home is a living monument of days gone by.
Not a 'show-piece' but a well-preserved, lived-in heritage home.

Family photos and memorabilia of generations, past and present is showcased on credenzas, counter tops, walls; family achievements gathered in glass cabinets throughout …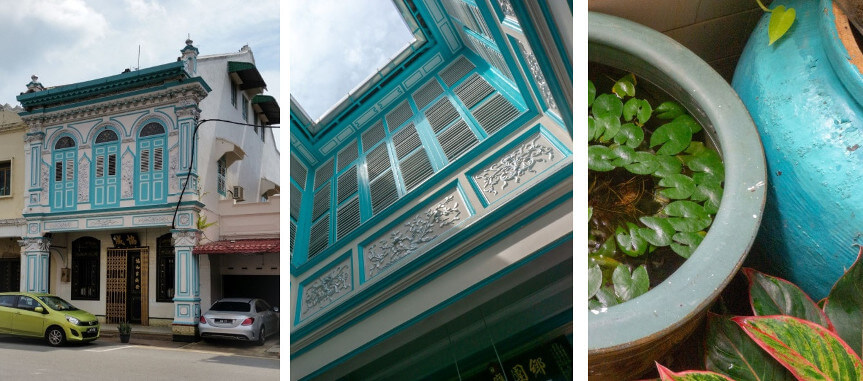 Visit to any Malaysian home is never complete without a hearty meal – sample typical local Nyona cuisine at its best; culminating with pineapple tarts, a Melakan speciality.

Still basking in warmest Melakan hospitality and very full tummies, we bid farewell to an amazing Old Dame of Melakan heritage … and continue to reminisce the beauty of traditional customs and cultures embodied within.
Over 40 years of friendship and comradery …
Thank you, Amy, for your hospitality; marvellous lunch and for sharing your family home with us!
P.S. We were invited to visit and dine in this wonderful heritage home by my university classmate, long-time friend, Amy. This visit has been in planning for several years but we managed to do it in 2019!
And many thanks to yet another long-time, dear friend, Shu; who planned this event with Amy; then drove us from Kuala Lumpur to Melaka for this visit.
P.P.S. I cannot get away from not mentioning our other friends who joined us for this special visit …
Thank you for your company – Francis, Lim Seng, Deborah, Chee Yon and Sarah!