Like full-flavoured spicy (not heat-hot) food?
Let warm flavours fill your senses with each mouthful?
Drink cooling coconut concoctions on a hot and balmy day?
Dream no more … head to Penang Island … food paradise … exotic local cuisines, cooked by locals … street-side stalls … food courts – you just need to know where to find them …

Surrounded by beautiful sandy beaches … warm, secluded waters; classy resorts or cosy venues to suit your budget … Penang is truly an island paradise – warm temperatures, cooling breezes and most exciting Malaysian foods you can find – you just need a local to get you there!

Queue on narrow side street to taste renown 'Chendol' (Malaysian brown sugar syrup and coconut milk drizzled over ice shavings filled with red bean and pandan-flavoured bean drops) in Penang – tourist buses drop their passengers to sample this refreshing coconut delight on daily basis, at regular intervals. Owner and teams makes and serve a bowl of Chendol each minute, yes, we timed it!
Just the type of refreshment to cool you down on a hot, steamy 32-35⁰C (89 – 96⁰F) tropical day!

Keen to sample local specialities? Take a steady, leisurely pace to enjoy local Penang delights …
Penang 'Char Koaw Teow' is slightly different from other Malaysian cities – why?
Style of cooking is different – flick of hand, toss of wok, right amount of heat from the stove … you simply taste the difference from venue to venue. It is all about 'heat in the wok' … speed of stir-fry and proportions of sauce to ingredients and noodles used.
There is only one way to find out which one is the best (for you) – you just have to try it all!

Fancy a snack?
Banana fritters … jackfruit fritters … bite-sized banana cakes … or sweet potato slices; made with fresh, ripe fruits and juicy sweet potatoes … at road-side stall along the way to Penang beaches at Batu Ferringhi.
Make sure you are there between mid-morning and about 3.00 pm …
Once stock for the day is gone … it is gone!  Owner closes shop and goes home!
Want to try something a bit more fancy? … but still with local flavours …a Michelin Star Chinese restaurant perhaps … serving local stir-fry Radish Cake, Steamed Rice-flour Wrapped Prawns or a simple Rice Congee with shredded pork, squid, sprinkling of cooked peanuts and crispy rice roll slices, topped with shallots. Fresh tastes … exquisite flavours … superbly cooked …
Simply heavenly!

Don't miss the famous Penang Assam (Tamarind) Laksa – tangy, refreshing, with thinly sliced cucumber, tofu, and pineapple, thick rice noodles in a mildly spicy prawn-based soup. Chicken satay with rice cakes, fresh cucumber cubes and tantalising fresh made satay sauce … not from a can … Or, local spiced fish baked in banana leaves, served with rice, salad and a tangy dipping sauce … This is life!

These amazing delights awaits you in tropical Penang … apart from the tourist hotspots Penang has to offer … check them out the next time you want to try something different.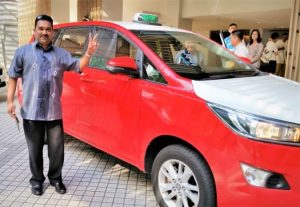 So, how do you find these gems?
Local guide and owner-driver, Robert Williams, part of a team of like-minded locals, take tourists all over Penang and surrounding regions – first time visitor or a regular; Robert and his team will show you what Penang has to offer … and have a great time!
Call Robert Williams on +601 6461 5725 to plan an unforgettable holiday in Penang Island;
… Isle of beaches, palm trees, coconut drinks, amazing foods and a bunch of friendly locals!
Thank you Robert for a lovely time in Penang, (yet again); we will keep coming back!