A Moat, a Maze, a Grotto … 900 years of history; 500 acres of beautiful parkland and gardens … reputed as one of 'the loveliest castle in the world …'
Landmark of Kent, England, in 1278 Leeds Castle became property of King Edward (1239 – 1307), where he spent majority of his time, during that period.
As a result, significant upgrades to its scope and defences were made – large moat around the castle; stone bridge spanning 3 islands; reinforced barbican defenses and elevated keep.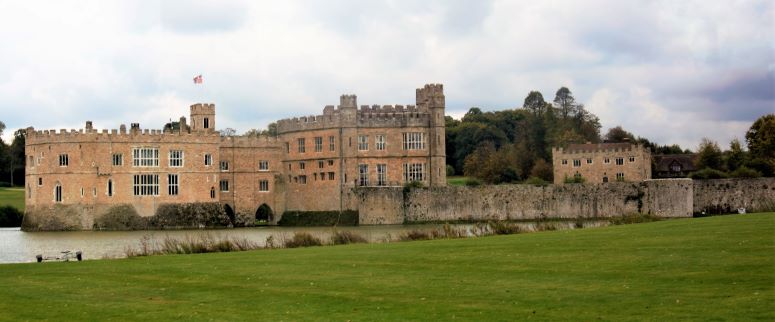 A Norman stronghold; owned by 6 medieval queens of England; used by King Henry VIII and Catherine of Aragon, his first wife; Jacobean country house, Georgian mansion, an elegant 20th century retreat; a hospital in World War II … Leeds Castle is one of the most visited historic building in England.
In 20th century, Lady Baillie, Anglo-American heiress bought and re-decorated this castle. Upon her death in 1974, she left Leeds Castle to Leeds Castle Foundation, a charitable trust, tasked to preserve and offer this historic building to public access.
Since 1976, Leeds Castle had showcased its original state through centuries, together with new additions such as an aviary with over 100 bird species, gardens, maze, grotto, golf course and rumoured world's only museum of dog collars!
Today, Leeds Castle attracts over half a million visitors each year.

Where is Leeds Castle?
Just 1 hour south-east of London, 8 kms (5 miles) east of Maidstone, Junction 8 of M20 motorway, Leeds Castle is a pleasant drive for a family day outdoors.
Walk through the maze, of 2400 yew trees, mirroring a queen's crown – an aerial view from its centre. Set in a square, yet seems circular from the air, this unique maze exits through a shell grotto; returning to civilisation through an underworld grotto of mythical beasts created from shells, minerals and wood.
Soak in fresh country air as you stroll along parklands and beautifully manicured English gardens. See the Culpeper Garden cottage garden; informal layout and low box hedges featuring roses, lupins, poppies and exotic blooms – filled with colours and floral scents…

Visit The Woodland Garden alongside River Len, with a carpet of daffodils, narcissi and anemones, azaleas and rhododendrons yet another splash of colour and calming scents, when in bloom; depending on the season of your visit.
Don't forget to check out Lady Baillie's Mediterranean Garden Terrace, designed by landscape architect, Christopher Carter, south-facing aspect, Mediterranean style, whilst enjoying views across the Great Water.
Weather permitting; you can punt the surrounding moat, taking in views from yet another perspective.
Learn about castle history on a guided tour through the castle; listen to Suffragette Talk and hear about life as a suffragette, her campaign, accounts of demonstrations, imprisonment and struggle for women's right to vote.
Visit the Bird of Prey Centre housing a variety of species from the smallest American Kestral to the largest, Russian Steppe Eagle. Learn about their species, name, age, origin and favourite food – beautiful, proud and majestic.
There are 2 themed playgrounds for kids – Knights' Realm, scaled model of Leeds Castle itself; built entirely in timber, with slides, bash bags and rope walkways, for children 7 years and over. Squires Court is built for younger children (6 years and younger), with turrets, swing across zip lines, sand pits and slides; where parents can relax and watch their children at play.
Educational talks and visits are catered for groups and school events; a variety of workshops for serious hobbyists, held throughout the year; fine dining and stay events – even a 'who dunnit' Murder Under the Mistletoe House Party for the adventurous.
Afternoon Teas, B&B stays, Fireworks and Christmas, New Year's Eve parties are all on the events list, with fine dining, bubbly and lots of merry-making!

Stay overnight; enjoy choice of Cottage style accommodation or Deluxe Stable Courtyard Bed and Breakfast and visit Christmas Market on Cedar Lawn overlooking the Castle in December.
Castle View Restaurant offers delicious meals in a relaxed environment enjoyed with spectacular views of Leeds Castle, across the terrace. You will not go hungry, after exploring the castle and its grounds, with hot and cold dishes, choice of cakes and desserts. Alternately, stay for dinner and appreciate the Castle views lit at night, whilst enjoying local and seasonal cuisines.
It is advisable to call and book for the various events and definitely for their dining experiences and stays.
But you can definitely wander in for a day's outing, stay for lunch or snacks, stroll through parklands and gardens; join one of the daily tours to learn the history that is Leeds Castle.
A wonderful experience not to be missed!