Clear blue sky, sunshine, warm and gentle, leaves flutter in gentle breezes … perfect day to visit Henry Moore Studios and Sculpture Garden at Perry Green, Hertfordshire, England.
Suburban street … modest cottage … personal artefacts … a collection of studios and barns forming the renowned Garden Gallery of sculptures, paintings and tapestries.
Henry Moore and his wife lived and created most of his famous works here.

But Henry Moore is best known for semi-abstract large, bronze sculptures, publicly displayed, globally.
Abstract forms of human figures with 'pierced or hollow spaces' – Henry Moore's unique art form was instrumental in introducing a particular form of 'modernism' to United Kingdom.
With over 60 acres of gentle undulating grounds, the cottage, Hogland House, surrounded by orchard, studios, barns and fields, displays world's largest collection of Moore's work.
Bask in serene English countryside with sculptures scattered across the grounds …
Walk through Pear Tree Paddock and admire Double Oval (Bronze 1966) pictured left; and proceed to Family Group (Bronze 1948-49) pictured right; the first large scale public bronze project commissioned for Barclay School, Stevenage, Hertfordshire.

Moore continued with his signature form of a reclining figure, Reclining Figure Festival, (below) displayed at Festival of Britain in 1951.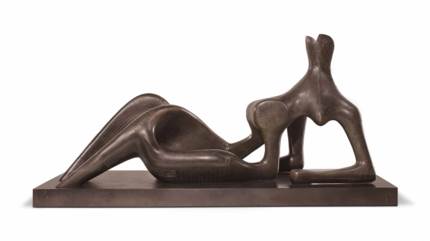 In 2012, the 8ft bronze, Reclining Figure: Festival (1951) sold for a record £19.1 million at Christie's; making Henry Moore the second most expensive 20th century British artist.
Turning right; gaze upon Sheep Piece (Bronze 1971-72); fore front in the Sheep Field; traverse to the far right … sitting atop a slight hill; is the Large Reclining Figure (Bronze 1984); it was based on a smaller model of 1938) … surrounded by sheep grazing … harmony of sculpture and nature at its best …
Stroll through the gardens to the studios and barns exhibiting Moore's different working methods – etching, carving and distinctive maquettes; don't miss the tapestries commissioned by the artist based on original drawings, specially dyed to attain the colours …
There are Henry Moore sculptures scattered globally … Moore's Draped Reclining Woman (Bronze 1957-58) "Die Liegene" in Stuttgart; Three Way Piece No.2 (The Archer), (1964-65) in front of Toronto City Hall, Nathan Phillips Square since 1966, Large Two Forms, in the Art Gallery of Ontario to name a few.
They are large, distinctive, unique, not easily missed … and simply unforgettable!