Medieval Market Town … Turf Mazes … English Mansion …
Visit a 13th century Medieval Market Town … trading in wool … then saffron in 16th – 17th century … hence, its name, Saffron Walden.
Today, Market Day is on Tuesdays and Saturdays … selling local regional produce, handicrafts … in the same Market Square; which serves as a car park on other days … surrounded by the original Guild Hall, with elaborate moulded plasterwork or pargetting; the Library and historic buildings of old England … with independent shops and eateries close by.

Quaint historical houses lined Bridge and High Streets … and side streets … late-Georgian and Victorian buildings … renovated 850-year old pub – The Cross Keys Hotel … enjoy historical ambience walking through … stepping back in time …


Home of restored Turf Maze or Labyrinth on the Commons, largest of its style of maze … one of 8 surviving turf mazes in England … a series of circular excavations cut into the turf … main part is about 40m (132 ft) in diameter … enclosed by 'a bank and ditch' … with a 1600m (about 1 mile) groove-cut pathway around … dating back to before 1600s … extensively restored … amazing site to visit …
… A fun excursion for everyone!

Visit Bridge End Gardens … a Victorian garden … created around 1840 … with unique-character interlocking 'rooms' or gardens … a Yew-hedged Maze … a Rose Garden … a Dutch Garden … a Walled Garden … lovingly restored … perfect place for family picnics … or just a quiet escape …
Theatre, music and maze festivals are regularly held within the garden, with wedding receptions in the Walled Garden a favourite.
To celebrate the two historic mazes … ancient Turf Labyrinth on the Commons and the Victorian Hedge Maze in Bridge End Garden, a Maze Festival is held once every 3 years in August … next festival being in 2019 … an event not to be missed …

Make an appointment to visit Audley End House and Gardens – set in place for over 5 centuries … experience life of 'old England' … an example of early 17th century architecture, with 18th and 19th century Neoclassical and Jacobean Revival landscape … see the organic kitchen garden – over 120 varieties of apples, 40 types of pears, 60 kinds of tomatoes, varieties of other fruits and vegetables. Wander through the Great Hall, state apartments, dressing rooms, libraries and 18th century gothic-style chapel …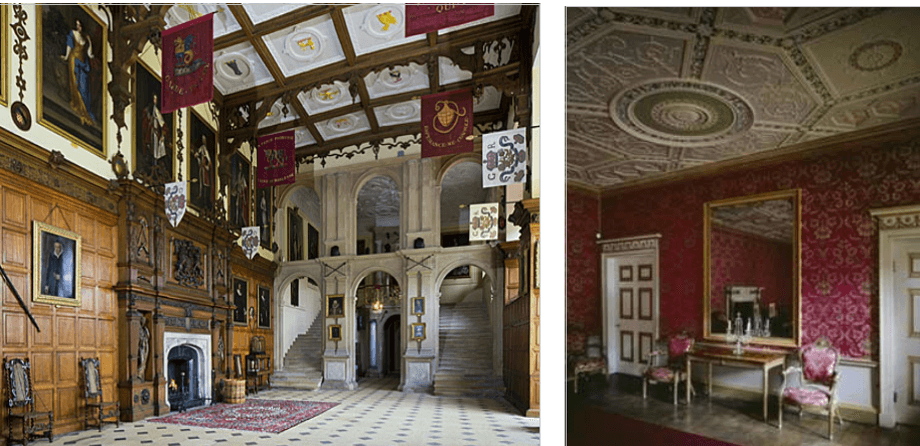 Visit resident horses in their stables … check out the parterre gardens … landscaped parkland … children's play area … café and shop … a day's adventure for the whole family!
There are numerous activities and places to visit in and around Saffron Walden – historical churches … art galleries … music halls … museums … miniature railway … simply countless …
Check it out on www.visitsaffronwalden.gov.uk
Where is Saffron Walden?
Saffron Walden is about 74kms (46 miles) north of London, about 24kms (15 miles) south of Cambridge; in Uttlesford district, Essex; an easy drive from London. Alternatively, a 55-minute train journey from London, with a short bus service to town centre.
Definitely worth the trip!
Maze Photos courtesy of visitsaffronwalden.gov.uk
Audley End House Photos – courtesy of www.english-heritage.org.uk/audleyend