Tucked away at the tip of Cleveland Point, Brisbane is a local secret. When you have a gem like this, you should share.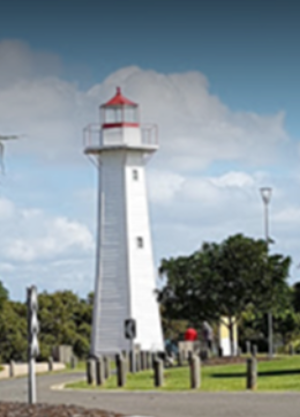 Surrounded by 270⁰ ocean views of Moreton Bay and surrounding islands … backing Cleveland Point Parkland … located on north-east tip … approximately 25 kilometres (16 miles) south-east of Brisbane …The Lighthouse Restaurant embraces Queensland lifestyle of water views, ocean breezes, freshest seafood and friendly personal service.
Named after the only remaining hexagonal-shaped historical timber lighthouse, built around 1865; popular recreation spot for families; social gatherings; or simply watch boats and yachts glide by … just a day outdoors; with sunshine and ocean breezes. Grassed playground, BBQs, sheltered picnic areas, stunning scenery, or sit at the spot where The Chronicles of Narnia: The Voyage of the Dawn Treader was filmed in 2009.
Truly one of a kind in South East Queensland!
"There is something magical about this park … it feels like an island …everywhere you look, there is water!" Explore Brisbane.
Owners, George, twin cousins, Tim and Chris welcomes you on entry open 'nautical' deco, warm timbers, white-washed walls … indoor-outdoor seating … elegant glassware and cutlery … crisp-white linen napkins … laid-back chairs …a relaxed ambience to indulge in fresh local seafood specialities.
There's King Prawns, Lobsters, Moreton Bay Bugs, there's Mud crabs, Sand crabs, Oysters, there's Barramundi, Salmon, Cod, Sea Perch, there's Calamari, Baby Octopus, freshly caught and displayed in chilled front-counter of the open kitchen. And succulent steaks and chicken options for non-seafood lovers.

Would you prefer Potted Crab in herb and truffle butter or Green Lip Mussels in white wine tomato basil and garlic? Maybe Baby Octopus chargrilled and served atop balsamic Napoli sauce or perhaps Duck Salad for starters?
Garlic King Prawn Linguine … Sand-crab Lasagne … Moreton Bay Bugs in chilli lime and ginger glaze for mains … or just have the lot in Taste of the Ocean, with half Lobster, Crab, Moreton Bay Bugs, fresh Prawns, Oysters, Smoked Salmon and Mussels!
Fancy dessert? Taste of Summer – trio of fruit sorbets … warm Chocolate Mud Cake with frangelico ganache and King Island cream … Signature Baklava, house-made with chocolate ouzo mousse … and more …
Located at one side; The Café; still enjoying ocean views, is open for breakfast or quick lunches, and if you just want to picnic and relax, pick up take-away Fish 'n' Chips at the front counter!
If you love fresh seafood; take a trip to this local favourite seafood restaurant in Cleveland Point to sample freshest seafood on offer. You will not be disappointed. Menu with traditional classics sit next to chef-inspired creations, accompanied by wide range of select wines and beers.
The Lighthouse Restaurant has a long standing history as a popular choice for your special occasions … birthdays … engagements … weddings … anniversaries … corporate events; reunions … catering from 15 to 250 guests.
The Lighthouse Restaurant ensures special events are memorable, from planning, table settings, decorations, to menu and wine selection, even specially tailored packages.
Most who have eaten at The Lighthouse Restaurant can attest to quality of food, service and great location.
Menu changes each season; together with a varied 'blackboard menu' of weekly specialities.
Why don't you check it out? Booking is usually advisable … especially on weekends …
Best Regards,
Niki Chew.
P.S. come prepared for an amazing dining experience in a relax atmosphere, with ocean views and gentle sea breezes … simply irresistible!
P.P.S. Attire is smart casual, to enjoy Queensland's lifestyle.
Photos courtesy of Lighthouse Restaurant