We all know something about camels, what they look like, carrying visitors on tourist treks all over the world – "Ships of the desert in Arabian Nights legend."
But do you know a Brisbane family's love and passion for camels has led to establishment of QCamel Dairy in 2006; when Lauren and family investigated and pioneered 'Camels in Queensland: Opportunities for Diversification, 2009' after completion of a two-year study on development of camel industry in Queensland?
Well, it is true and what a wonderful experience it is to be amongst the family of camels and guardians for the day !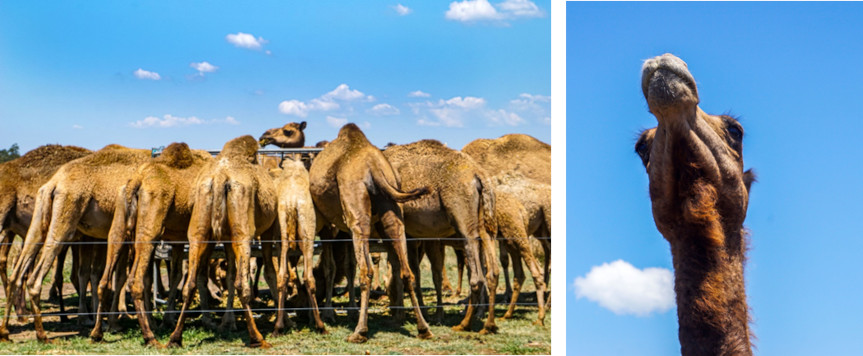 QCamel, Australia's premium supplier of certified organic camel milk products, is located on Sunshine Coast, Queensland; just a stones' throw from Brisbane.
First dairy to produce premium pasteurized camel milk using ethical, organic, sustainable farming practices, these pasture-fed camels live in a 'no-cull' environment where Lauren's family share camel milk with calves. Partnership between man and animal is strong and thriving.
Healthy feed give rise to nature's healthiest milk !
Products range from camel milk to yoghurt smoothies, powders, bi-powders and cosmetics.
With over 80 retailers in Australia; exports to New Zealand and Singapore; range is growing from strength to strength.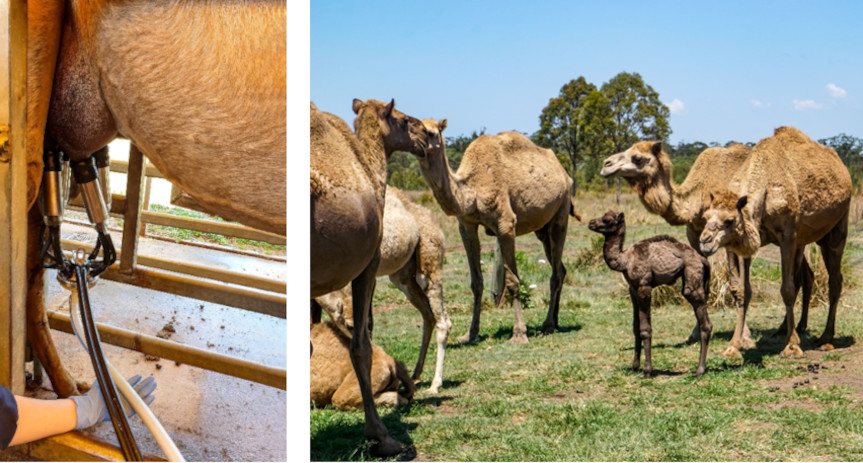 Do you know that camels are considered one of the most evolved land mammals on Earth?
Being milked for over 5000 years, providing nutritious whole food source for communities in some of most arid and unforgiving lands around the globe – camel milk, well-known for nutritional and medicinal properties, is main sustenance for centuries by nomads and Bedouins of Africa and Middle Eastern countries.
Today, modern science attest to these findings and health benefits – that camel, unlike cow or goat's milk has no known side effects or health issues to man.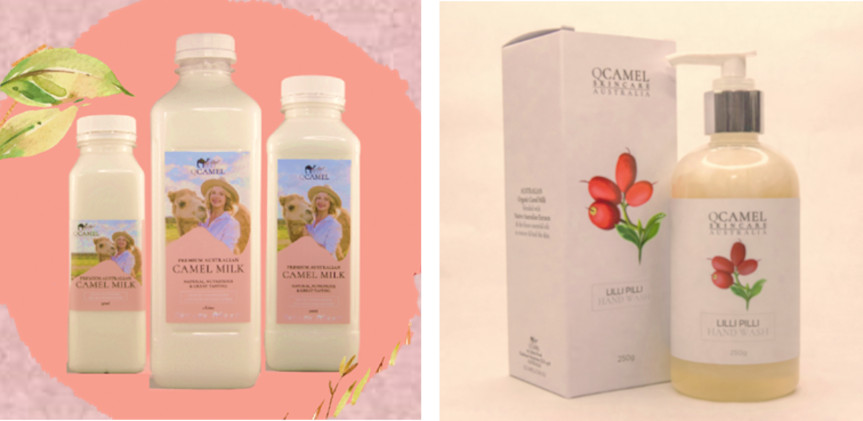 Camel milk could be a "… potential therapy for controlling diabetes and its complications; on thymus and activation regulated Chemokine in autistic children; … unique anti-diarrheal properties; … and potential therapy as an antioxidant in Autism Spectrum Disorder (ASD)".
But the benefits do not stop there – camel milk skincare products; fusion of modern research, ancient cultures, Australian native ingredients resulted in a range of skincare products with natural occurring Alpha Hydroxy Acids (AHAs), Immunoglobulins (IgGs), vitamins and minerals. Result – unique structure enables deep penetration into skin, reducing oxidative stress, combined with Australian natives' proven restorative properties, promote collagen production and heal the skin.

Wow ! Range of day and night creams, cleanser, face masks, hand wash, hand and nail cream, lip balm … Full range is shown on the QCamel website.
Happy and healthy family life (for the camels), combined with passion, love and care by the guardians, is paramount – camels are deeply emotional, intelligent animals, seen as family members, not as livestock.
Owners Lauren, Peter, children Yasmin, MacKinley, Harry and their team dedicate themselves as guardians of their flock; managing and organizing farm duties, working in the dairy, chatting with the flock, processing milk and marketing activities.
And when members of the flock have names, it is very, very personal.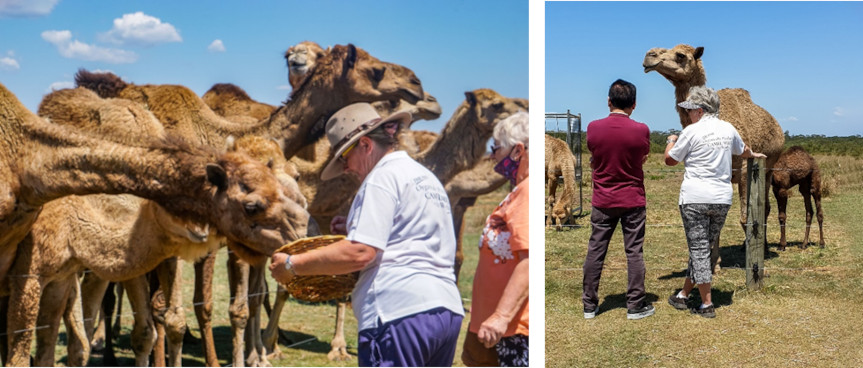 Young calves from one-week old to several months; mummies, daddies, matriarch of the flock join in to meet and greet visitors; exhibit with pride on how mummies are milked; join in on morning tea – camels in their communal feeding trough and visitors surrounded by fences, with table of goodies and benches set around the enclosure.
Interaction is really up close and very personal !
Pat one of the flock … hand feed them … stroke their delicate skin … and no, camels do not spit at you !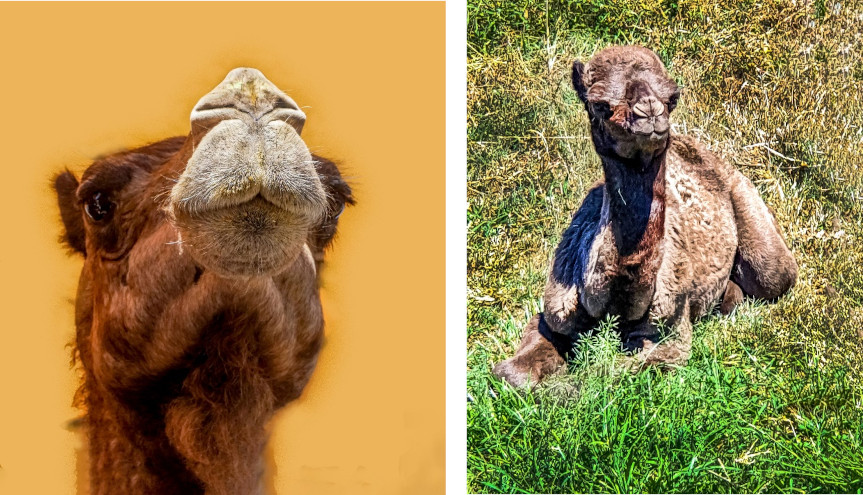 Running a farm is serious business; dedication, hard work, 7 days a week, coupled with compassion, love of the way of life, love of the flock, passion to make a success of venture as a business … a labour of love.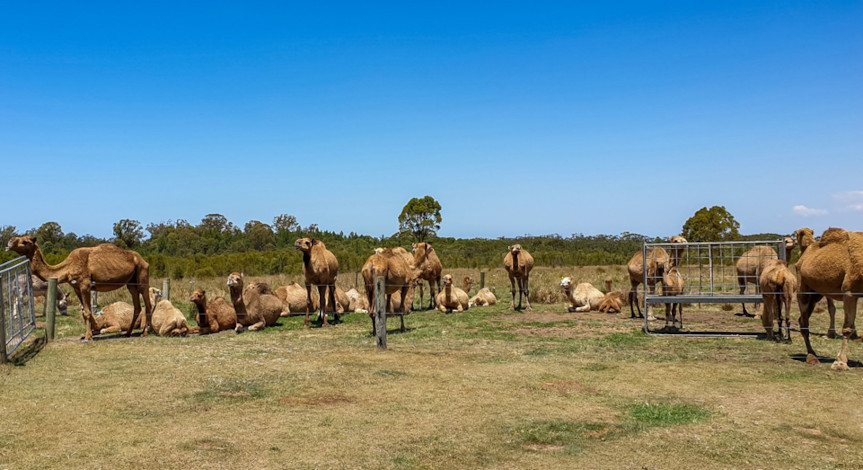 Lauren and her team also run farm visits and tours for group bookings or school groups, birthday parties, corporate events; Camels and Canape Tours, and special events. You just need to check out the website; give them a call to make your bookings and help another Aussie local business prosper !
You will also fall in love with the flock … have a great time understanding sustainable camel farming, benefits of camel milk and associated products.
What a unique and memorable experience !
You can find them on QCamel Website