Imagine stepping off the plane and driven straight to the whisky distillery … Yes !
Light lunch to satiate hunger and then off to delve into depths of whisky barrels, whisky making, sampling … what more could you ask for ?
Eat, drink, be very happy …
Shene Distillery
Sip Tasmania's only triple distilled whisky – Mackey Tasmanian Single Malt Whisky against beautiful backdrop of countryside, open grounds … heritage settings … . once home to early colonialist Gamaliel Butler … prestigious grounds with direct links to historical figures like King George III and Governor Lachlan Macquarie. Just awe inspiring !

Award winning Whisky at San Francisco World Spirits Competition (SFWSC) 2021; Shene Distillery was awarded 5 Double Gold Awards and 1 Gold Award. Gold award at SFWSC indicates "a spirit near the pinnacle of its achievement".
"Gold" spirits are amongst finest in the world.
Just 30 minutes' drive north of Hobart, Tasmania lies the 19th century Shene Estate, now home to award winning Single Malt Whisky and Poltergeist Gin.
"Master blender determines whisky's final expression profile by marrying mature spirit in various casks to integrate and harmonise contrasting flavours; achieving unique and exclusive single malt". "A creative expression of ideas and emotions – art that adds depth, body and harmony" to this single malt whisky.
Some varieties of exclusive blends are :-
Serendipity – Australian and Spanish Sherry Blend; whisky is matured in small Australian Apera casks, then transferred to Spanish Sherry butt.

Australian Port – Double distilled whisky exclusively matured in small Tawny casks, then married into Grant Burge Tawny casks.
Fortified Spirits – Triple distilled whisky, matured in small Australian Apera Casks, then into French oak ex-Cognac casks.
Australian Muscat – Whisky matured in small handcrafted Tawny casks, finished in Australian Muscat 300L casks.
Union of Two Worlds – Matured in exclusive small handcrafted Portuguese Port casks from Douro Valley, then into Australian Tokay 500L puncheon (heavy wooden casks).

With so many varieties, it is impossible to make a choice at short notice – you just must sample and savour each selection slowly, mull over their tasting notes; brown sugar or toasted cinnamon to the nose; gingerbread or toffee palate; with full-bodied or pepper-citrus finish.
Shene's Whiskies are rich, luscious and complex, lingering finish with light citrus notes. Quite the experience !
Joy of tasting, sampling, these amazing whiskies; listening to stories by master blender or co-owner, John Ibraham, makes it worth the visit !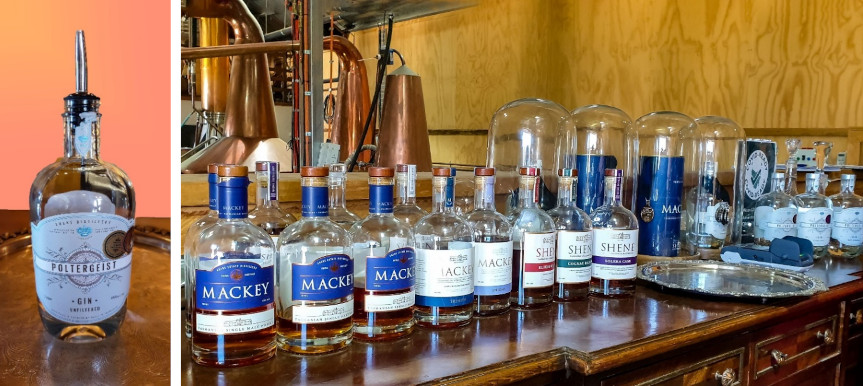 Do you know Shene Distillery also makes a robust, full-flavoured, unfiltered Gin ?
Crafted from Tasmanian pepper berries, range of botanicals including juniper, coriander, Chinese liquorice, lemon peel; earthly notes, Tasmanian Gin is perfect in martinis or neat with a splash of tonic.
Poltergeist Gin was awarded Double-Gold Award at World Gin Awards in 2017; the only gin in the world awarded Platinum at San Francisco World Spirits Award two years in a row. It is also the First Australian distilled Gin to win Platinum in 2020 – how's that for name dropping !
Hellyers Road Distillery
Dairy Co-operative turn Tasmanian Whisky Distillery in 1999, Hellyers Road is a small, craft, premium single malt whisky distillery, specialising in Single Malt 12 or 15-Year Whiskies; Slightly Peated 10-Year or Pinot Noir Finish.
With all vatting and marrying done in timber casks, non-chill filtered, the 15-year old whisky delivers vanilla and citrus tone highlights, soft and smooth, from time spent in premium American Oak. No colouring is added to natural golden tones derived during maturation.
Located in Burnie, Hellyers Road Distillery, is one of larger Single Malt Whisky producer in Tasmania, but they also make a cold grained, triple-distilled vodka (Premium Southern Lights Triple-distilled Vodka), with clean, crisp taste – " inspired by cold winter nights and clear starlit skies" and a range of Whisky Cream Liquors, as well.
Whisky Cream Liqueurs
Ah, these Whisky Cream Liqueurs catches the eye – blend of fresh Tasmanian cream, single malt whisky gives a unique spin to cream liqueurs. Aromas of chocolate, coconut, malt-o-milk biscuit and drizzle of honey gives a rich palate with explosive creamy chocolate, coffee or hazelnut, depending on the flavour selected.
Available in Original, Coffee and Hazelnut flavours, these whisky liqueurs are a must, for any lover of chocolate; lover of coffee or hazelnut – perfect accompaniment with desserts, coffee or just on their own.
To avoid indecision, these Whisky Cream Liqueurs are available as individual bottles or box set, depending on your fancy.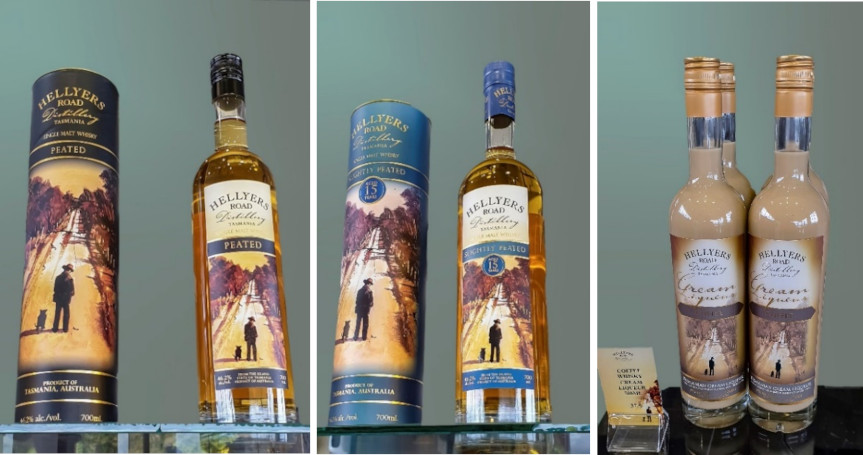 Fully licensed restaurant and tasting bar with views of Emu Valley adjoins the distillery, offering delicious meals or tasting plates to accompany the whiskies, finishing off with delicious variety of liquors.


Why are there so many distilleries in Tasmania?
Favourable temperate climate, abundance of barley and peat, offers suitable conditions for Tassie whisky to thrive and grow over decades; churning out some of Australia's best single malts.
Tassie Scotch gives actual Scotch (whisky made in Scotland) a run for its money as exemplified by the 2 distilleries mentioned here.
Godfather and founder of Tasmanian whisky, Bill Lark in 1839, challenged local ban on hard liquor by making his own whisky and history was born.


Do you know that there are over 30 active distilleries in Tasmania?
Yes, all making superb whiskies with world's purest drinking water, premium oak casks, with calm softness, reflective of time spent in casks; use of local ingredients and creativity of Aussie master blenders.
Take a Tassie Whisky Trail to taste some of world's best Tasmanian Whiskies – leading from one artisanal distillery to another, where you can touch and feel ingredients, smell latest batch distilling and of course, sample the finest single malts in the world.
This is Heaven on Earth for Whisky, Whisky Cream Liquor lovers !