Welcoming smiles as you enter restaurant … casual but elegant setting … smartly dressed hostesses … promising an interesting dining experience.
And City Winery Eagle St. Pier did not disappoint !
Well informed of Gerler Wines, venue manager Isabel and hostess Jade, give background stories on wine creations and finishing notes – enable guests to discern and appreciate delicate taste profiles and nuances … for novice or serious wine connoisseur.
That made it so much more enjoyable in matching of food to wines – or maybe wines to food !

Four wines set on table; Adelaide Hills Sauvignon Blanc, Adelaide Hills/McLaren Vale Rose, Barossa – McLaren Vale Grenache Shiraz Mataro, and Barossa Shiraz, to sample and enjoy.
Start with Sauvignon Blanc, refreshing palate with ripe passion fruit, silky flow of flavours, dry savoury finish. Great summer wine for Queensland !

Choice of Starters from menu –
Murray cod colcannon (creamy mash of fish and potato), confit char-grilled cabbage, smoked potato puree, cod bacon – interesting cod and potato puree combination, spiced just right to tickle your taste buds – every mouthful a delight in itself !
Or check out the Summerland camel galette (flat pastry), zucchini, dill pickled culture cream, red curry powder – shredded camel meat, hint of curry powder tempered with dill-pickle cream. Yet another interesting blend of flavours …
Accompany above with Adelaide Hills/McLaren Vale Rose – blend of Grenache, Merlot and Sangiovese grapes offering strawberry-cranberry flavours with crisp, dryish finish to palate. Extremely smooth and dangerous – best nominate dedicated driver for this outing.

Selection of Mains were equally enticing – Market fish, grilled, with zucchini slices, burnt kiwi beurre blanc (delicate white wine butter sauce) and sprinkle of hazelnut, served with a splash of greens. Tasty fresh fish and zucchini slices, perfect combination of smoky kiwi beurre and crunchy nuts in every mouthful.
Or Grassfed beef short ribs – melt in your mouth tender, juicy beef, bak choy to soak up miso sauce base and toasted grains – tender beef served against crunchy vegetable and toasted grains … enticing blend of flavours, yet again !
All produce are locally sourced, no further than 3 hours from Brisbane – a truly farm to plate event ! Freshest beef, seafood, fresh grown local vegetables, herbs and some spices – creating a fantastic local food experience. And you can taste the freshness in each mouthful.
Grenache Shiraz Mataro from Barossa – McLaren Vale vineyards … 84% old vines and blend of shiraz mataro, giving an intense but smooth flavour. According to label, will continue to improve with age – a rarity these days as most would like to appreciate their wines now, not wait for it to mellow and mature.
Last but not least is Shiraz from Barossa – rich, spicy black plums and liquorice flavours tempered by French and American oaks to create a fine, soft red to cellar at least 5 years to appreciate the full bodied wine.

These wines are created by winemaker Dave Cush, together with partner Adam Penberthy, of Gerler Wines – Brisbane's first micro-winery, City Winery – to the delight and enjoyment of Queenslanders.
A winery in Brisbane City – Yay !
Carl Gerler, one of Brisbane's early pioneers in viticulture in late 1800s, had over 350 acres of grape vines spread throughout Brisbane city; a vineyard along Brisbane river around Nundah where he made wine for locals. Gerler, however, believed better grapes could be found outside Brisbane and bought fruit back from Toowoomba and Warwick by horse and cart.
Inspired by Carl Gerler, Gerler Wines re-ignite the passion of micro-winery, sourcing choice grapes from all over Australia – such as Barossa, McLaren Vale, Langhorne Creek, to create hand-made wines, maturing in French and American oak barrels – some stored in their city store at Fortitude Valley, balance in suburb of Virginia.


Co-owners Dave Cush and Adam Penberthy's vision of bringing wine-making process back to the city became a reality – through lots of hard work, love and passion for perfection. And it shows through the soft and delicate texture of the wines.
Wines crafted to compliment Queensland's climate and produce, light and exciting, spiced and fruity whites to soft, rich and mildly mellow reds to tantalise your taste buds.
Diners and drinkers can taste from the barrel, get into bottling workshops, grape stomping events or join the wine and food pairing experience. From wine blending workshops to wine tours, tasting and lunches or dinners, there is something for anyone keen to learn more about these Queensland wines and have a great time appreciating wines, accompanied by a delightful meal as well !
There are several venues in Brisbane city where you can enjoy these wines and meals – flagship location at Fortitude Valley, Carl's Newstead, City Winery Eagle Street Pier, Edward Street Cellar Door and for larger events, The Tivoli & City Winery.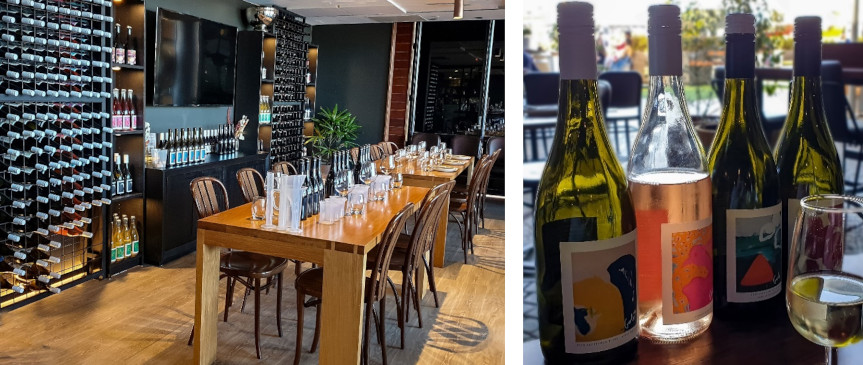 Wines are very personal in nature – too dry, too sweet, too fruity, or just "I don't like the taste" is often expressed. However, fun is in trying and tasting to affirm likes or dislikes. It is even more fun to try these wines with delightful meals or morsels of tasters and cheeses … with friends and or family … to agree or disagree with your findings.
Could not think of a better way to relax and unwind; wile away a glorious afternoon or evening; with sunlight filtering between cityscapes or watch magnificent sunsets over Brisbane river … gentle breezes caressing; laughter and giggles filtering through after a few glasses of wine.
This is life to enjoy and cherish !
Thank you, City Winery for creating Gerler Wines for us to appreciate, together with range of local food delights to accompany the wines.
P.S. Many thanks to those at Eagle Street Pier – chef Brock and team mate, Kel for the delicious meals served; Isabel and Jade for your warm hospitality in making us feel welcomed !