3 Unforgettable Experiences in Vancouver !
Memorable experiences are to be cherished; as you reflect and share those experiences with family and friends …
Butchart Gardens
Walking through beautiful, well-kept gardens is like walking in dreamland – mesmerized, captivated by floral fragrances, splashes of colours everywhere, gardeners dream; appreciated by everyone !
Butchart Gardens, Brentwood Bay, British Columbia, Canada one of loveliest gardens created and designated National Historic Site of Canada.
Home of Robert and Jennie Butchart who made their fortune in Portland cement in 1888; started building this beautiful garden by commissioning 65-year old garden designer, Isaburo Kishida of Yokohama in 1907, to build a Japanese garden – fashionable place to be seen at the time.
As limestone quarrying was exhausted; Jennie Butchart converted it into the Sunken Garden, in 1921.
Ownership of Butchart Gardens still remain with the Butchart family and is now managed by great-granddaughter, Robin-Lee Clarke.

In 1826, tennis courts were converted into an Italian garden and in 1929 their vegetable garden was replaced with a rose garden designed by Butler Sturtevant of Seattle.

Ornamental birds and collection of bronze statues are displayed throughout the gardens; with fountains, ponds, Children's Pavilion and Rose Carousel added in 2009.
Opened to the public, jazz to classical music entertainment, fireworks at times and in winter, is lit up with Christmas lights along with ice-skating rink in the Waterwheel Square.
Great and relaxing way to spend morning or afternoon walking through Butchart Gardens … admiring fruits of long hours of labour, a place of beauty, peace and quietude !
Capilano Suspension Bridge
Simple suspension bridge crossing the Capilano River in North Vancouver – 140 metres (460 ft) long and 70 metres (230 ft) above the river, with over 1.2 million visitors per year.
Built in 1889 by George Grant Mackay, originally of hemp ropes and cedar plank deck; replaced with wire cable bridge in 1903. Having changed hands couple of times; "Mac" MacEachran, then owner of bridge, invited local natives to place their totem poles in the park.
Capilano Bridge was completely rebuilt in 1956 and sold to Nancy Stibbard, its current owner in 1983.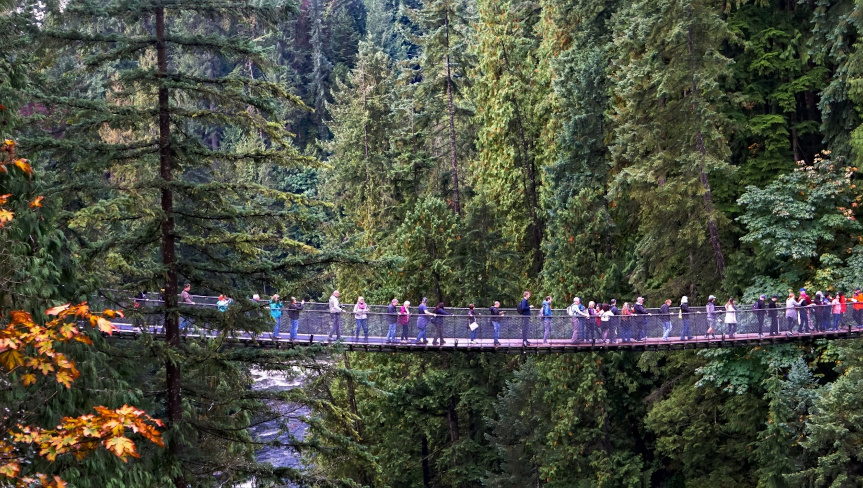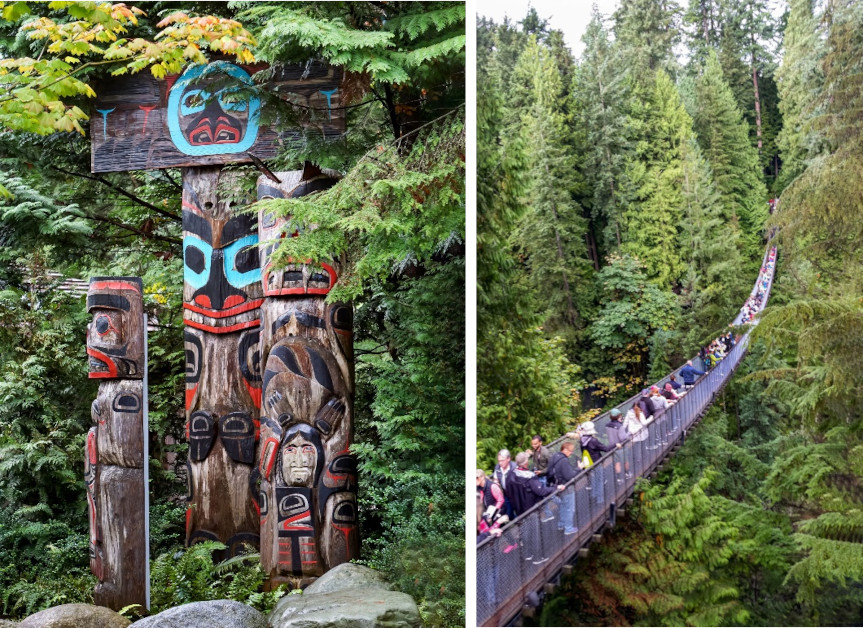 Upon crossing the bridge, you enter one of 22 regional parks in Metro Vancouver – cool, tranquil, enchanting …
Park covers most of upstream areas of Capilano River, below Cleveland Dam. Giant Douglas Firs, some over 1500 years old spread their canopy overhead, whilst variety of flora and fauna native to this ecosystem flourish ground level.
Situated upon unceded traditional territory of the Skwxwú7mesh Nation and Tsleil-Waututh Nation, the word Kia'palano means "beautiful river" in the Skwxwú7mesh language.
Stroll through temperate rainforest, tranquil trout ponds, majestic evergreens … hauntingly beautiful and a sight to behold !

Treetop Walks
Treetop Adventures was added in 2004, consisting of 7 footbridges suspended between old-growth Douglas Firs on west side of canyon, forming walkway up to 30 metres (98 ft) above forest floor.
Take a walk on the wild side – trek through suspended footbridges … take in the views from above … gaze eye-to-eye with birds flitting from one tree to another …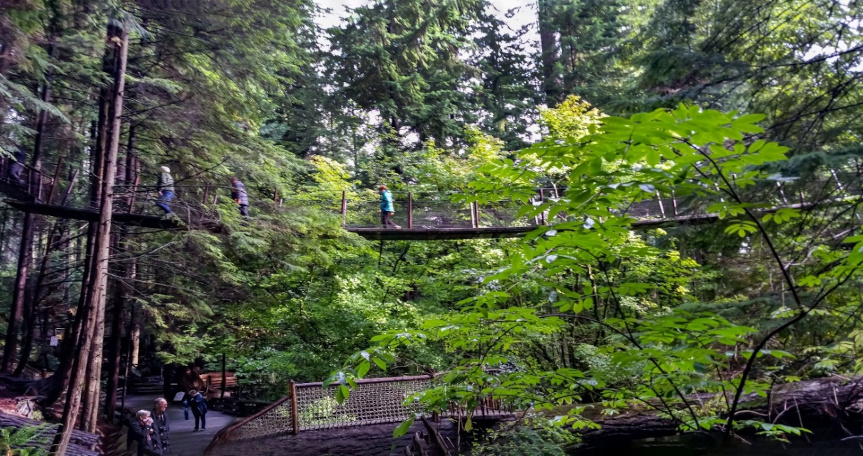 Another attraction was the 'Cliffwalk' built in 2011 – following granite precipice along Capilano River with series of narrow cantilevered bridges, stairs and platforms with only 16 anchor points in cliff supporting the structure – definitely not for the faint-hearted !
Stick to Treetop walkways instead.
Nature lover or otherwise, it is an opportunity not to be missed.
Beautiful, fragrant gardens, lovingly cared for; challenging walk across suspension bridge and return journey too; casual trek over tree tops to view above and below tree canopy; appreciate majesty of ancient trees, earthy smell of forest, luscious leaves, array of greens and gold, depending on time of year … an unforgettable experience like none other !