Air laden with moisture; almost smothering; light mist spraying over your face, hands, body, all around …
Mossy peaty fragrance of forest waft by on a breeze; distant birds calling …
Waterfall overflowing with rainwater from days past; torrential, unforgiving, rushing downstream … simply magnificent !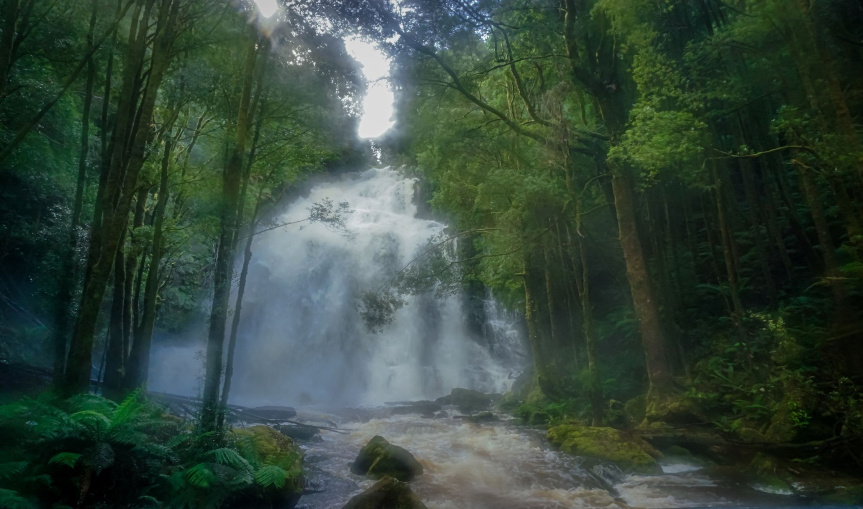 Nelson Falls, cascade waterfall on UNESCO World Heritage list, located in the Franklin-Gordon Wild Rivers National Park; easy access from Queenstown, 27 kilometres (17 miles) west via Lyell Highway.
Descending only about 30 metres (98 ft); Nelson Falls is more magnificent after heavy downpour; where the Nelson River empties its load into Lake Burbury.

Tall trees reaching skywards; thick overhead canopy; filtered sunlight; moist groundcover; enabling moss, variety of ferns, big and small to thrive in abundance – in harmony on and amongst majestic trees, fallen logs, offering luscious thick ground cover along riverbeds.
Rainbow of colours scattered amongst temperate forest, reds, golds, kaleidoscope of greens spread across the valley as far as your eye can see, wonders of Mother Nature …
Part of the Tasmanian Wilderness World Heritage Area; a World Heritage Site; South West Wilderness Tasmania is one of the last expanses of temperate wilderness in the world …
This dense hinterland wilderness is within easy walking access and well worth the trip.
Some of trees and vegetation are unique to this part of Tasmania – ancient species that had survived due to its cool, temperate conditions; whilst other habitat has evolved over time.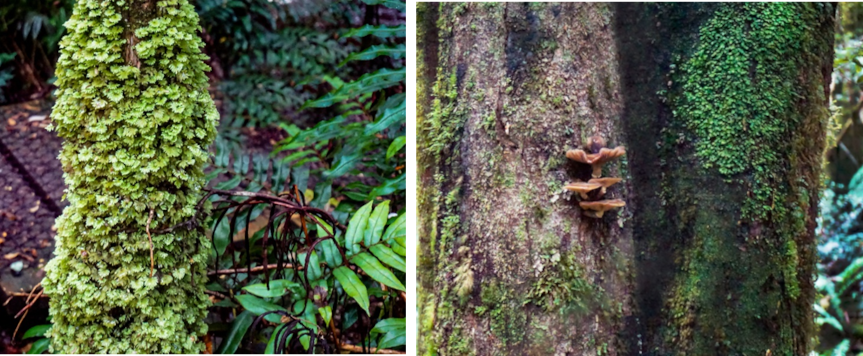 Mossy forest features sassafras, myrtle, variety of ferns, mushrooms – admired but not eaten …
Spectacular moss on tree trunks feature all around, myriad of colours, shapes and sizes …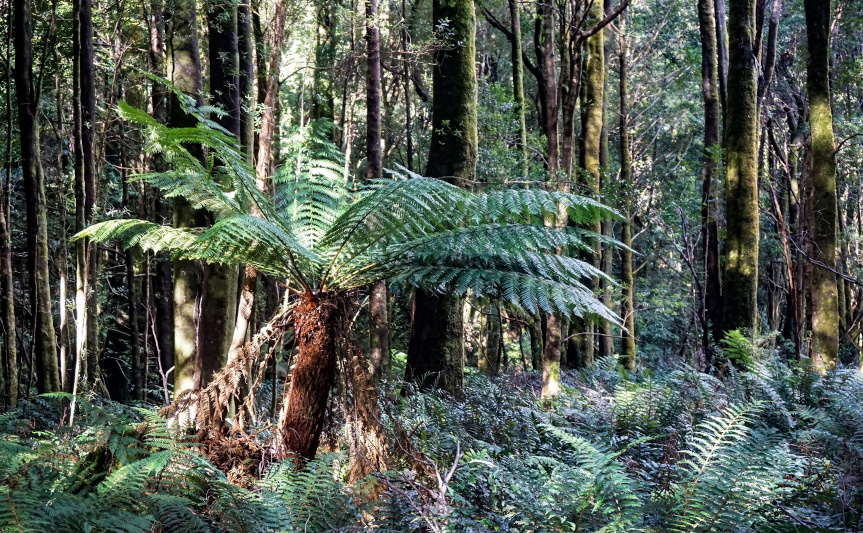 There is a boardwalk to Nelson Falls, with ancient trees and ferns along the way; including at least 7 species of ferns … as you journey back in time to when Tasmania was part of the great supercontinent of Gondwana.
Do you know that the Tasmanian Wilderness Heritage Area is the largest conservation area in Australia?
It also covers almost 25% of Tasmania. What a treasure !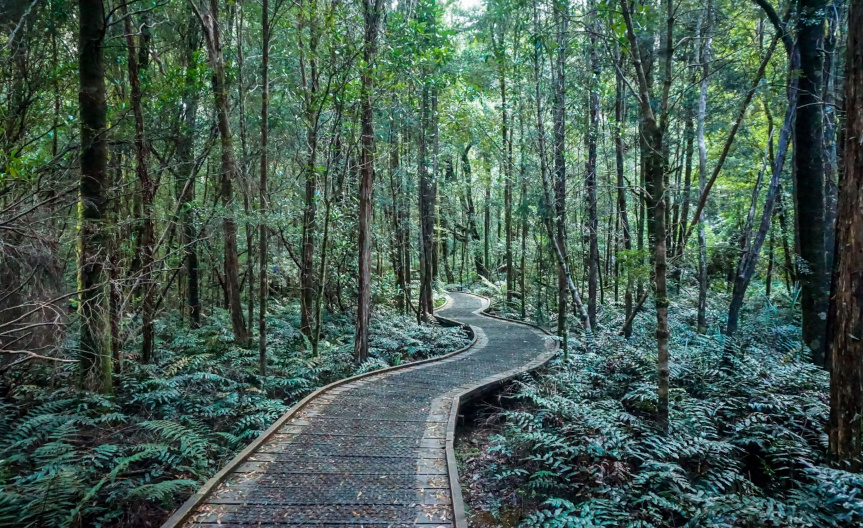 Nelson Falls is suitable for wheelchair access, children friendly, few steps and best seen during winter and spring or June to October. The 1.4km-return hike is well formed, clearly sign posted, with broad hard surfaced tracks. And what a pleasant walk it is …
It is also one of Tasmania's 60 great short walks – memorable and unforgettable !
Nelson Falls can also be accessed via Lower Gordon River on any daily cruises from Strahan.

Venturing into the forest … you may even come across wild cherries !
Trek along foot paths or wander off the track … dense trees, thick, moist undergrowth, be one with nature – quiet, calming, relaxed.
By the way, we share the roads with native wildlife; so caution is advised while driving along these roads.
Note that Lyell Highway may occasionally be closed by snow in winter; so best check with authorities before proceeding to avoid disappointment.
Enjoy one of the last expanses of temperate wilderness – just a stone's throw from our backyard.