Love train journeys? YES !
Long or short train rides … traverse mountains; meander across rolling fields and farmlands … cross raging rivers … deep gorges, misty thick fog … luscious or desolate countryside … comfort of luxurious train carriages or unyielding vintage bench seats …
No back-breaking hikes, slips and tumbles for the not-so-nimble-footed … 5-star culinary delights accompanied by choice of beers, wines, soft drinks, delectable desserts, coffee or tea, finish with choice of liquors …
Appreciation of nature to its fullest !
Yukon Gold Rush Experience
Take in scenery of Klondike Gold Rush 1898 – White Pass & Yukon route carved out of challenging steep mountain side, harsh, unforgiving weather conditions. Journey through panoramic mountain scenery, climb over 914 metres (nearly 3000 feet) elevation in over 32 kms (about 20 miles).


Enjoy historic commentary of what early pioneers faced – hardships and challenges in search of fortune … retracing original route to White Pass Summit … Bridal Viel Falls, Inspiration Point, Dead Horse Gulch. Breathtaking views of glaciers, gorges, waterfalls, tunnels, trestles and historic sites.

Over 64 km (about 40 miles) round trip climbs from tidewater at Skagway to White Pass Summit over 880 metres (about 2888 feet) in elevation.
Experience not to be missed when you visit Alaska …
Railway Bridge over River Kwai
Immortalized by Pierre Boulle's book with film based on it; "Bridge over River Kwai" – Thai section of this railway bridge still connects remote villages of Northern Thailand today.

Over 60,000 prisoners of war (POWs), 200,000 locals and South East Asians built this railway over "Kwae Yai" river … under appalling conditions and malnutrition, killing nearly half of its workers during Second World War.
Thailand-Burma railway was completed in 1943, spanning 415 kilometres (258 miles). Somber historic memories of its creation … but glad train still serve the Thai people in current times …

Simple timber seating, fans to keep cool, an unforgettable experience as you watch passing rivers, farms and locals along the way …
Reminisce and prayers for those who built this railway …
West Coast Wilderness Railway
Steam railway along historic 35km (about 22 miles) track between Queenstown and Strahan, Tasmania, is an experience to be cherished. Step back in time … appreciate Tasmanian heritage, harsh wilderness, resilience and triumph over rugged terrain, of man's determination to conquer steep mountainous wilderness …

Journey through remote temperate rainforest, giant tree-ferns, climbing one of steepest tracks under unique power of Abt Rack and Pinion system. Designed in seventeenth century, is the only operating Abt rack and pinion railway in Southern Hemisphere.

Stop at remote train stations, traverse deep chasm of King River Gorge, share experiences and views of early west coast settlers who carved their fortunes in one of most difficult and remote landscapes in Tasmania leading to creation of world richest copper mining company.
Enjoy scrumptious lunch of thick pumpkin soup, hot crusty bread and hot drinks as you listen to tales of rogues and rivalry, as you meander through nature's wilderness.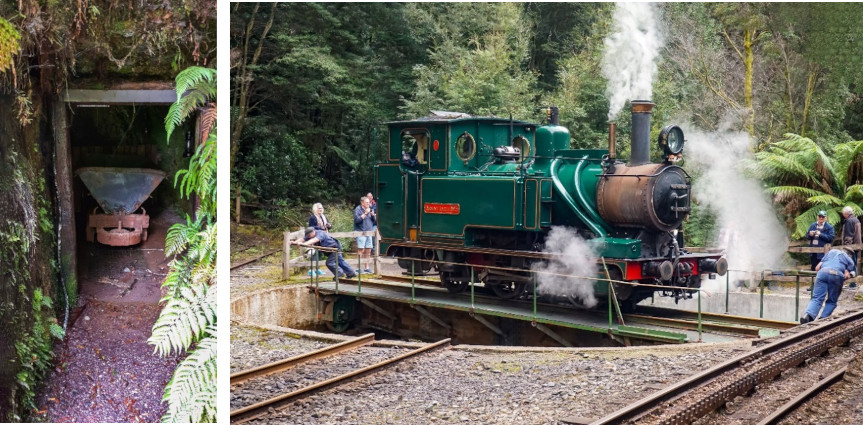 Don't forget to watch how train is turned on manually operated turntable for your return journey – simply amazing.
Memories to be cherished !
PeruRail Vistadome on The Andes
Traverse up The Andes, Peru on PeruRail Vistadome – making 4 stops from Machu Picchu to Cusco, rising in altitude of 2038 (6686 ft) metres above sea level (masl), to 3486 masl (11437 ft).
Comfy seats, relaxed atmosphere, upbeat South American music, smiling faces of hosts and hostesses, impossible not to go with-the-flow, sway to the beat, watching countryside roll along …

Meander through terraced farmlands along slopes of The Andes, farmers harnessing glacial rivers from mountains for irrigation …

Enjoy Andean culture through music and dance as you climb The Andes … watch colourful dance of "The Saqra" – representation of mischief; danced to honor "Virgen del Carmen". Saqra invites passengers to dance along the aisle … causing more mischief ! Watch Alpaca wool collection fashion show – exquisite pieces showcased … buy these special pieces should they catch your fancy !
Nibbling snacks along the way; never a dull moment !
Rocky Mountaineer Indulgence
Locally inspired cuisine, from Fraser River Salmon to Okanagan wines … fantastic North Canadian hospitality … custom-designed glass-dome coaches … informative hosts pointing out unique gorges, rock formations, waterfalls, bald eagles' nests, mountain goats, or places of interests along route.

Absolute indulgence from breakfast to late afternoon snacks, spend 2 days on board the Rocky Mountaineer, assigned seating, single-level coach with extended height, oversized windows – adventure not to be missed !

A toast to commence journey … breakfast (hot or cold), coffee or tea … alcoholic or non-alcoholic refreshments and snacks – mid-morning … lunch (with hot or cold entrees) … more beverages … endless snacks and beverages throughout the day …
Oh, what a life !

Overnight hotel accommodation in Kamloops, Quesnel or Whistler (depending on direction of travel); coach transfers between train stations and hotels … all happened like clockwork.

Journey of pure indulgence amidst beautiful Canadian countryside from dark blue waters of glacial overflow merging with Fraser River … deep gorges, farmlands beside fire-devastated mountain slopes with new growth afoot …
Scenery just takes your breath away …

No matter when or where you travel, take the opportunity to journey by train at some point; soak in local cultures, appreciate country's landscapes, enjoy delightful local cuisines and beverages, mingle with fellow travellers, share local stories, legends and camaraderie.
Great way to travel … leisurely, comfortable, steady pace, meals served with a smile, always.
Every train journey is different … the only common factor is you !