Located at south-east tip of Tasmanian mainland, separated by the D'Entrecasteaux Channel … traditional Aboriginal name is Lunawanna-allonah; name of 2 island settlements, Alonnah and Lunawanna … 10 to 15-minute ferry ride from Kettering on mainland.
Bruny Island, 362 square kilometres (140 square miles) area, stretching over 50 kms (over 31 miles) north to south, connected by The Neck, narrow strip of land, joining North to South Bruny island. Surrounded by sheltered beaches; eucalyptus forests, natural parks, abundant wildlife and outlying grazing fields.

Do you know that Bruny Island is classified under BirdLife International as an "Important Bird Area?"
This is because it supports world largest population of endangered forty-spotted pardalote; a third of world's population of swift parrot, 12 of Tasmania's endemic (where habitat is restricted to a particular area) bird species and about 240,000 breeding pairs of short-tailed shearwater or Tasmanian 'muttonbirds'.
But Bruny Island is also a day-trip destination for food lovers wanting to sample delightful range of cheeses, served with fresh-baked crusty loaves, beers, wines, whisky, honeys, condiments and oysters …

Smell of fresh bread straight out of oven, piping hot and crusty … loaves and loaves of them waiting to be sampled, accompanied by Bruny Island cheeses …
Made and matured in traditional techniques, artisan cheeses reflect distinctive Tassie characteristics. Sample 'O.D.O.' (One Day Old) simple curd cheese; White mould 'SAINT' cheese – complex rich flavoured soft, firm cheese, maturing strong and pungent; or lactic-set, light delicate 'JERRY', made with organic milk.
Washed Rind cheeses – '1792' – signature cheese, pungent, aged on Huon pine, strong and smoky; or 'OEN' – washed in local pinot noir, wrapped in vine leaves for 3-4 weeks … fresh-tasting, lemony when young; complex and savoury in maturity.
There are semi-hard cheeses like 'TOM', fast-maturing hard cheese; 'BELLA' slightly sweeter and moist; or 'SMOKED TRUCKLE' smoked cheese. Hard cheeses like 'RAW MILK C2' made with raw milk, unpasteurized, sweet aroma, mild nutty flavour; or 'GEORGE' – semi-hard cheese, savoury, moist intense flavour.
Boutique cheeses, made on site; range of soft delicate cheeses, semi-hard, hard or firm and tangy; unique names, unique characteristics; wide range to sample, share in discussion before you select and buy to your liking.
Accompany the cheeses with a full range of boutique beers; local hops, Bruny honey, local water, unusual ingredients like locally grown quinoa, spelt, native plants nurtured in local freshly emptied whisky barrels; beers matured into unique tasting brews …

Amber ales – 'FARM ALE' – hazy, golden, smooth-bitter and fruity; 'CLOUDY BAY IPA' (IPA being India Pale Ale) – juicy-citrus, tropical taste; or 'HONEY PALE ALE' – delicate floral characteristics from seasonal honey varieties. 'LIGHTHOUSE ALE' – red ale with malty subtle fruit-floral notes; dark ales like 'OXYMORON' – signature dark ale with spicy rye notes; 'BRUNY BLACK' – roasted coffee mingled with citrus, spice and plum, perfect in cold weather and hearty meals.
Again, quirky Tasmanian names; wide selection of light to full-bodied beers to quench any thirst and preference !
There are lots of gourmet condiments to check out as well – relishes, chutneys, jams, exotic or classic – the range is endless ! Perfect to buy, take home and savour at later date.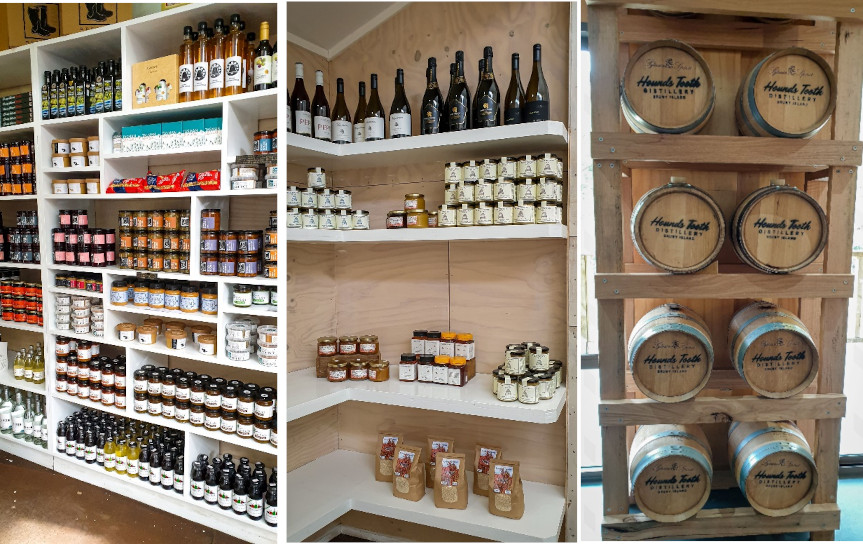 And the Honey – just delectable !
Bruny Island Honey – yet another boutique beekeeper's offerings – complete with part of hive located within the shop. Sample and buy Tasmanian Blue Gum, Bush, Fennel Honey; Honey and Ginger, Leatherwood Honey, Manuka, Honey Box, Summer Blossom Honey or condiments such as Honey and Mustard.
Don't forget to try the honey ice cream as well – made with local honey of course !

Do you know that there is a wide range of whisky breweries in Tasmania?
Well, some are in Bruny Island … true Whisky experience; extensive range of purely Tasmanian Single Malt Whiskies on tasting … includes Rare Limited Releases, Special Editions and Award-winning Tasmanian Single Malts. Perfect for cool winter nights !

But highlight of the day must be Bruny Oysters – simply to die for …
Fresh Pacific oysters served almost immediately – fresh, 'natural' oysters with lemon; dash of tabasco perhaps or panko-crumbed oysters atop sprinkling of carrot-cucumber salsa. Powdery but firm, fresh oysters crumbed, deep-fried and served immediately; with a glass of Tassie wine – just heavenly !
Do you know that most oysters begin as male and change to female later in life? When water temperature is right – at about 20C (68°F) plus, outgoing tides, full moon, adult oysters spawn, shooting millions of eggs and sperm into sea, milky-white waters, letting nature takes its course …

All these delights are accompanied by cool, temperate climate; rugged cliffs … lighthouse … beautiful landscape overlooking surrounding ocean … lots of treks and walks throughout island … frequent local visitors – seals, penguins, eagles, variety of bird species …
Enjoy sumptuous culinary brunch, lunch or dinner of fresh local seafood or meats; or pick up takeaway meal, find a good spot amongst nature or on the beach; feast on a delightful gourmet meal amongst relaxing scenery, distant  waves …
This is Bruny Island, a gem in the southern seas.