Air laden with moisture, welcome relief from mid-30 ⁰C (86 ⁰F) temperatures; standing on the boardwalk protruding out into Iguazu Falls, sprays of refreshing mist on your face, head, hands, legs, everywhere … fully surrounded by waterfalls, cascading into depths of valleys below.

With subtropical climate – hot and humid, lots of rain all year round, expect a memorable experience of spectacular waterfalls, beautiful landscapes carved by nature, home to many species of animals and flora; important natural ecosystem connected to all South America.
According to legend, a Deity planned to marry local beauty Naipí, who fled down-river in a canoe with her mortal lover, Tarobá. In a rage, the Deity sliced Iguazu River, creating these waterfalls and condemning the lovers to an eternal fall …


Iguazu Falls spans Brazil and Argentina; with Iguazu National Park – 2 national parks of over 252,980 hectares – Foz de Iguazu (185,260 hectares) in Brazil and Puerto Iguazu (67,720 hectares) in Argentina. A UNESCO World Heritage Site reaffirmed as Exceptional Universal Value in cultural and nature conservation. Together, they make up the waterfall system, dividing Iguazu River into upper and lower Iguazu.
It is easy to understand why it's widely considered most beautiful waterfall in the world …
Total height of falls – over 80 metres (269 ft); total width – 2700 metres (8,858 ft); 275 cascades, falls and drops; Iguazu Falls is world largest waterfall system with nearly 2 million visitors annually. It is not tallest or possess the longest drop; but it is world's widest waterfall system, with largest number of drops.
95% of Iguazu River basin is in Brazil, with over 20% of these falls … Argentina side, however, makes up almost 80% of the falls …

The Falls is completely different in feel and scenery when viewed from both Brazil and Argentina sides.
In the Argentina side, there are 6 different circuits available – easy casual walks, giving panoramic views of Iguazu Falls from upper walkways, as you look across to well-appointed hotels, down to limited view of lower circuit and surroundings.
Check out staircase character of The Falls … 2-step waterfall of 35 and 40 metres (115 and 131ft) height. Numerous islands dotted everywhere dividing The Falls into many separate waterfalls and cataracts varying between 60 and 80m (197 and 269ft) high.

Do you know that about half of Iguazu River's flow falls into a long and narrow chasm – Devil's Throat canyon (Argentina side), about 90 metres (300ft) wide and 80 metres (260ft) deep – longest drop of Iguazu Falls. Awe-inspiring as you stand at edge of drop … looking down …

There is one circuit meandering through The Falls (Brazilian side), with waterfalls every way you turn, ending at a board walk just over 100 metres from a 200-metre drop … you can feel the vibration of energy raging down, nature at its best … oh, be ready to get wet … very wet !

There is strictly no swimming in Iguazu Falls, but you can catch a boat ride at ground level of river to brave fast waters for those adrenalin induced.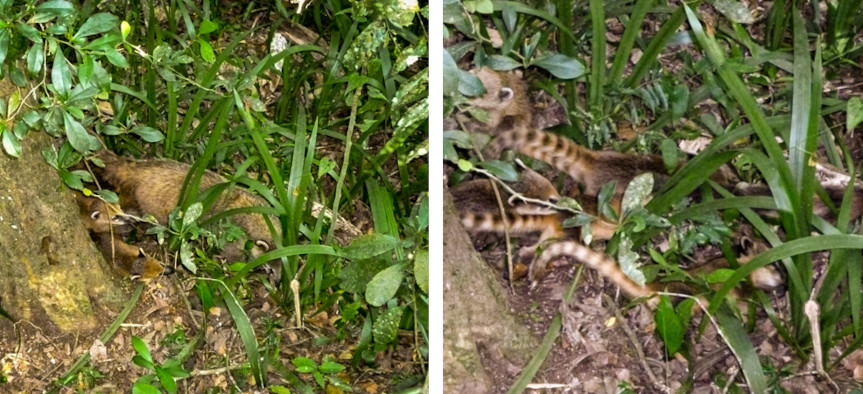 If you are lucky, you may even see some locals in their natural habitat – Coaties, small four-legged, long-tailed racoon-like animals roaming in search of food. Toucan and other bird species, less frequent visitors – Monkey Cai, endangered Yaquarete, and Tapirs, one of largest mammals in South America.


Walking through paths alongside amazing waterfalls, always moist but not soaked; lush vegetation and plant life, air filled with birds calling amidst thundering waters, animals scuttling around … being with nature, a wonderful experience not to be missed …