Cloudy skies, rugged mountains, calm seas … in harmony … peaceful, serene …
Quiet surroundings, broken only by thawing ice falling; harsh yet scenic beauty all around …
Chunks of ice along shoreline, floating pieces big and small …

Occasional marine life just below water's surface; odd hump, a light spray … huge shapes cruising alongside; a curious otter floating by …
Turquoise waters deepening into dark blue, bright skies turning grey blue, clouds gathering … cold, threatening rain, sleet or snow … sense of lonely existence, silent, waiting …
Steady drizzle, sleet and rain, on and off … another day's visit to Glacial Bay National Park, Alaska in early autumn.
This National Park encompasses a marine wilderness including tidewater glaciers, snow-capped mountain ranges, ocean coastlines, deep fjords, freshwater rivers and lakes – one of Mother Nature's best creation.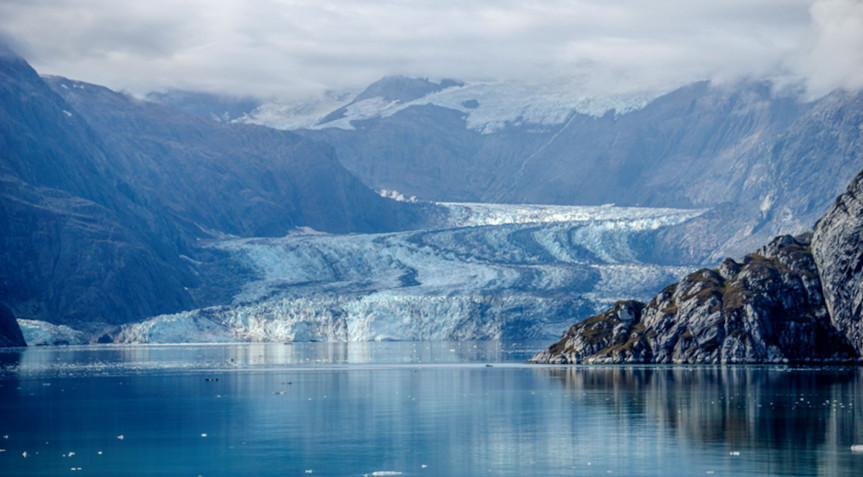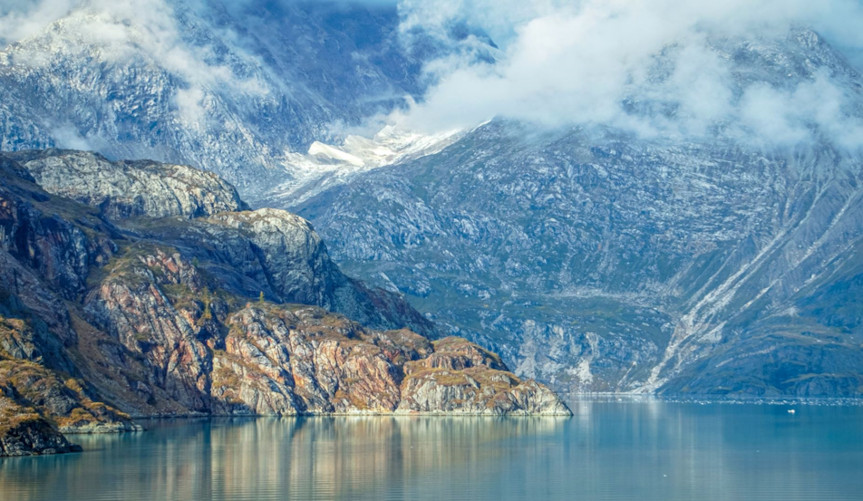 Stark mountains, slopes carved deep and rugged, frozen stretches of majestic ice pushing down towards shoreline, emptying into deep waters all around …
Sparse vegetation, turns golden at start of autumn, alongside glaciers, harsh yet captivating landscape …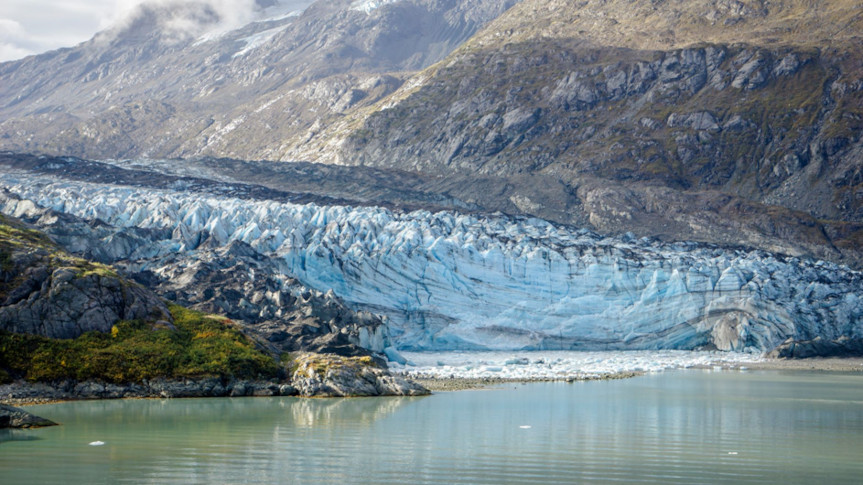 Capturing sunshine, light moss and vegetation grow close to water's edge, carpet of green and yellow along mountain slopes contrasting against snow and ice …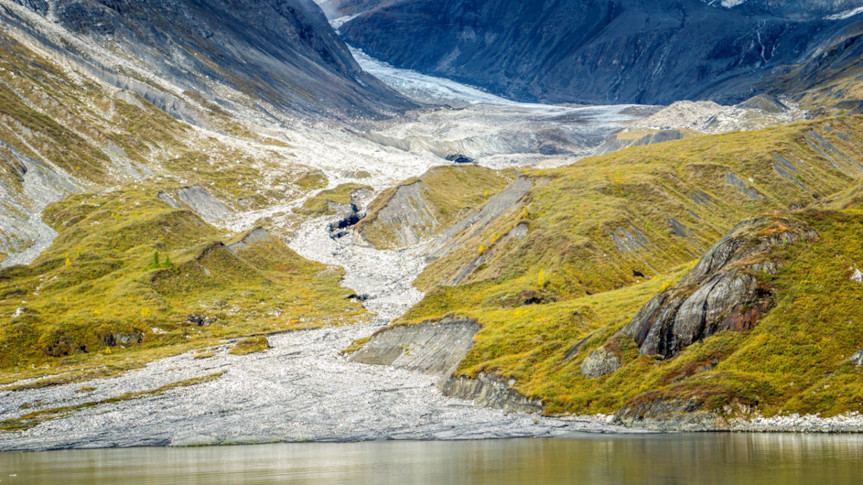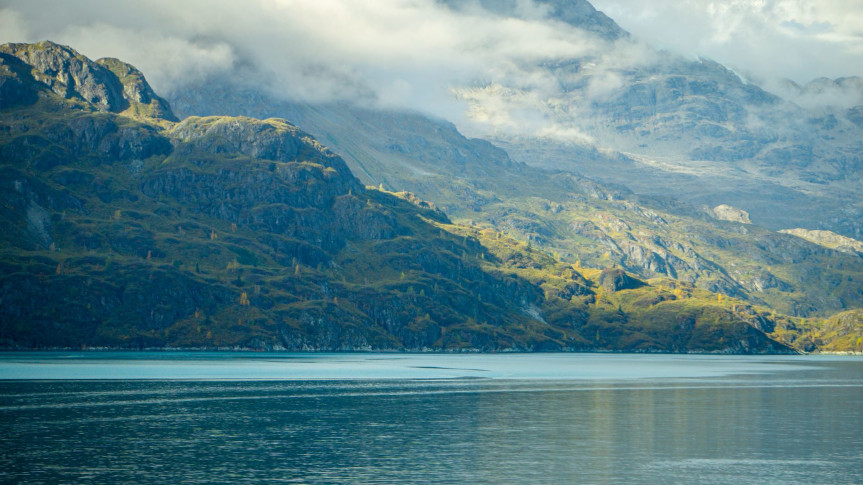 Rivers of ice and grit meanders down mountain slopes, leaving thick layer of ice twice the height of man at mouth of glaciers …
Nature carves ice and soil into striations and patterns within glaciers; cross-section only visible once ice is broken off or melted down …
Jagged peaks, deep grooves, crater-like landscapes in-between mountain ridges …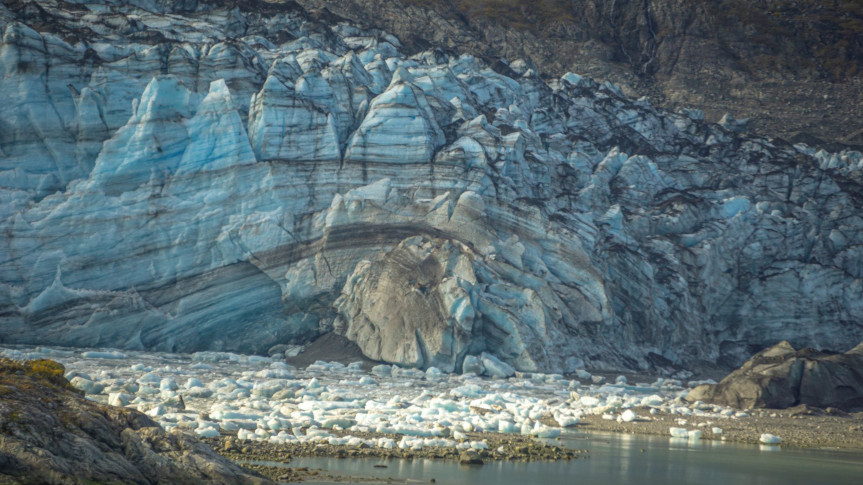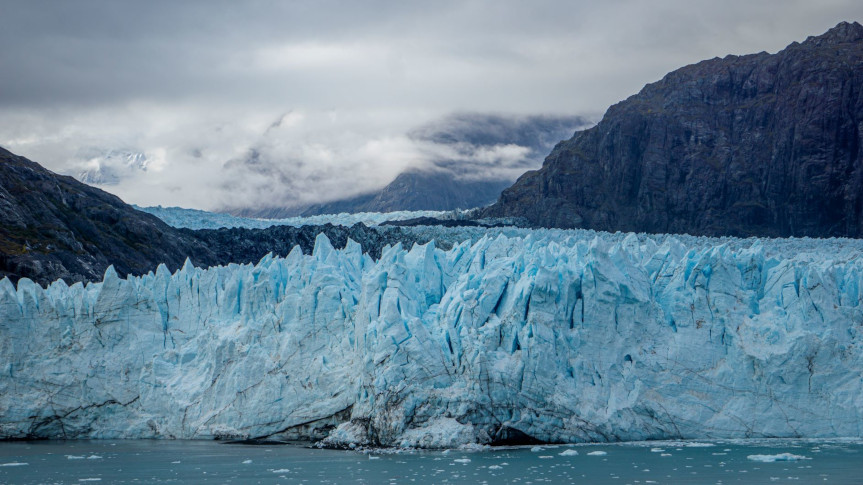 Glacial Bay National Park spans 3.3 million acres, largest national park and one of world's largest, UNESCO designated, nature and marine sanctuary, a World Heritage Site.
With some ice over 4000 ft (1219 metres) thick, up to 20 miles (32 km) wide in places, extending more than 100 miles (1609 km) to St Elias Mountain Range; discovered in 1794 by explorer Captain George Vancouver when he sailed into the Icy Strait.
This vast span of nature reserve is simply breath-taking to look upon … cruising along its coastline.
According to scientists, glaciers are receding "… in 1879 the Grand Pacific Glacier had retreated 48 miles (77 km) up the bay; and in 1916 it had retreated 65 miles (103 km) from Glacier Bay's mouth. This rapid retreat is only found in South-east Alaska. Scientists have been studying the phenomena hoping to learn how glacial activity affects climate change …"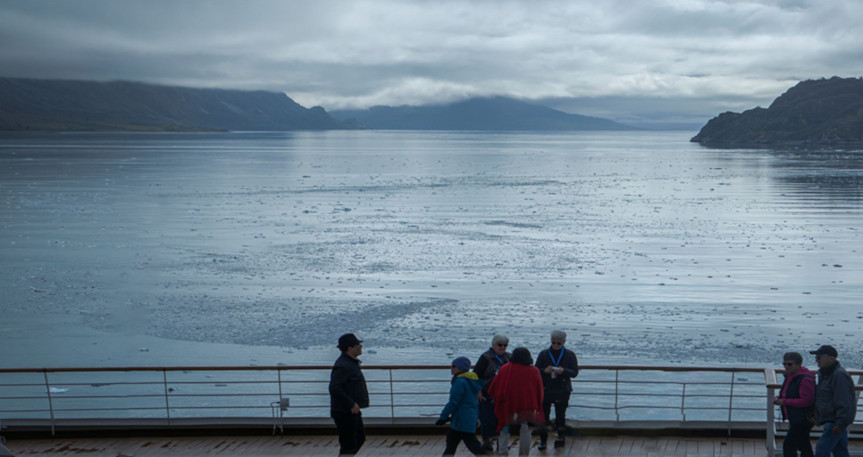 No matter what the findings will reveal, Glacial Bay and surrounding environment are wonderous sights to take in; awed by raw beauty of the wild … amazed by chunks of ice afloat … feel insignificant against huge glaciers meandering down mountain slopes … be privileged to glimpse marine life in their home habitat …
Cruising away at day's end; bid farewell to diminishing sights of deepening blue skies, snow-capped mountain ranges, rivers of ice flowing down to icy waters …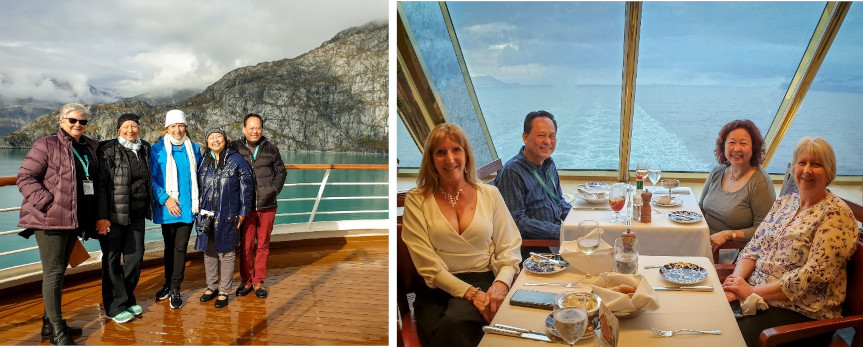 Memorable experiences to share with friends over glass of wine, hearty dinner after a cold day out on deck …
Glacial Bay National Park; definite inclusion in any bucket list!