Daydreaming again … reminiscing of Penang local delights … dreaming of Nyonya or Peranakan tucker, fresh, spicy, flavoursome always something new to taste and rave about …
Intermingling of Chinese, Malay and Indian cultures resulting in complex and exotic local dishes not found elsewhere … Chinese descendants from Fujian Province, South China; settled in Penang Island; creating a unique Nyonya cuisine; spiced up Malaysian style, with turmeric, coriander, cumin, chillies, variety of soya sauces, dash of coconut milk, stewed to melt-in-your mouth moments, or stir fried in high heat …
Result?
Tantalising, spicy, heart-warming flavours perfect for balmy Malaysian climate …
And for those who love spicy foods!

Start with either Nyonya style deep-fried spring roll, "Choon Peah" – thicker pastry crust than usual spring roll, but it is larger, with more filling and tastier … or perhaps "Kiam Chai Ark Ting", salted vegetable duck soup cooked with onions, tomatoes and sour plums … or maybe "Hu Piou Ting" – fish maw soup – sliced fish maw, turnip, cabbage, carrots, mushrooms and homemade meatballs in clear soup – all different and enticing to savour …

Enjoy fresh, mildly spiced, tangy indulgence of Fried Cuttlefish or "Jiu Hu Char" … cuttlefish and pork thinly sliced, stir fried with turnip, carrot, cabbage, onion and mushrooms strips, served with side of lettuce and sambal belacan or spicy shrimp paste.
Intrigued and confused?
That's okay … there are different Nyonya styles in different states of Malaysia …
Imagine the fun in seeking and sampling these styles and dishes as you travel across the peninsular!
Absolutely awesome!
Penang is special – with heavy Penang-Hokkien influence, Nyonya food takes on a twist to combine Hokkien cooking in spicy Malaysian style and local interpretation.
Result – absolutely unique and amazing food offerings!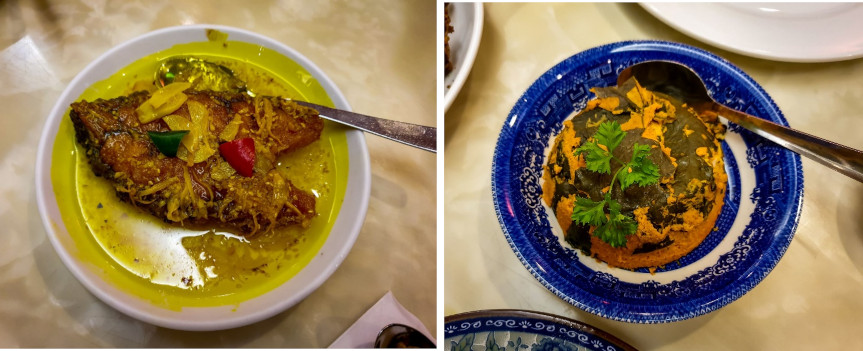 Try fish pieces cooked in thick, tangy curry with okra, onions, tomatoes and ginger flower, known as "Gulai Tumis" or favourite Nyonya dish "Otak Otak", spiced minced fish, egg, lined with "daun gado", steamed as ordered – could not come any fresher!
Another speciality is stir-fried pork belly or "Heh Ya Kay Char Bak" – thinly sliced pork belly stir-fried with onions and "cincalok" (small shrimps fermented with sugar and salt) – Malaysian inspired sauce. Or pork belly chunks stewed in dark soya sauce "Tau Eu Bak" if you prefer a less spicy alternative. Either dish will tantalise your taste buds endlessly.

Love fried rice?
Try "Nasi Ulam" fried rice with salted fish, dried shrimp, belacan and spices or Nyonya Fried Rice with spices, prawns, Chinese sausages serve with prawn crackers … both equally yummy on their own or with select above dishes.
Fancy chicken?
Try "Inche Kabin" deep-fried marinated chicken pieces served with prawn crackers and dipping sauce or tasty "Kari Kapitan", chicken curry Nyonya style: chicken pieces in thick spicy curry sauce with kaffir lime leaves and lime juice … hearty and wholesome to the last bit of sauce!

Do not pass up Tamarind Prawns or "Assam Heh" – pan-fried king prawns marinated in tamarind pulp and assorted spices; or "Sambal Goreng" prawns, eggplant, cashews in savoury tangy sauce with lemongrass base, garnish with fried garlic and shallots – something different yet again!

Still have room for dessert?
Well, don't pass up warm Glutinous Rice Porridge or "Bee Koh Moy" slow-cooked black glutinous rice with dried Chinese longans and rock sugar served with thick coconut milk … or stewed mung beans known as "Lek Tau Sago Ting" sweetened with palm sugar and coconut milk or classic Nyonya dessert "Pengat" – sweet potato, taro, tapioca, bananas pieces in coconut milk and palm sugar … all 3 desserts are to die for!

Lovers of food will appreciate that not all foods are to everyone's taste; but an appreciation of flavours; feast to senses and taste buds cannot be denied …
It is very personal; very individual and most of all, very enjoyable to sample different styles of Nyonya cooking; in different regions; by different cooks or chefs …
A real food adventure not to be missed … next time you are in Penang!
Thank you, Nyonya Breeze Desire, for giving endless eating pleasure to your patrons … for great home cooked Nyonya food served.
Will be back when we can!
P.S. All dishes are translated from Hokkien dialect; hence may be a tongue-twister for some …
P.P.S. Make sure you book to avoid disappointment, as they tend to be busy, especially weekends!