Some of us don't like cooking …
Some of us love cooking …
Some of us just cannot cook … or so it seems …
In last 12 weeks or so, if you cannot cook, you would have relied on sandwiches, frozen meals, or chilled supermarket meals to survive … not exactly wholesome for health or your purse.
But in times like these, innovation arise – out of necessity or because you can.
It is time.
You don't need to be super chef to made delicious healthy meals – you just need to be creative.

Most of us take what we used to have for granted – if we don't have time to cook, we order take-away; if it is not convenient, we just go out for dinner !
Whilst you can still order take-away, you cannot dine out currently.
So, it is time to appreciate a bit of Dine-in Cuisine.
We have lots of fresh ingredients – vegetables, fruits, herbs, spices, huge selection of meats; all easily available. And if you are creative, you can create delicious and healthy meals with a bit of help from cookbooks, online demonstrations or YouTube cooking sessions offered by all and sundry.
East meets West … You could hardly mess up these days from easy one pot wonders to semi-prepared meals to heat and serve.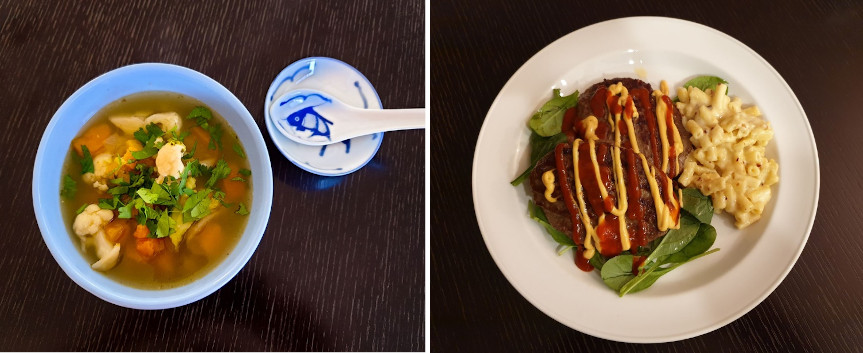 But one thing to remember is this – home-made soups always taste better; home cooked chicken or beef casseroles, curries always fill dinner tables with smiling faces as they tuck into your creations … giving sense of self satisfaction.
Why ?
Because it is made from fresh ingredients, bought and created by you.
Nothing beats fresh produce. No matter how 'poor' a cook you are.
Actually, everyone can cook – and the more you cook, the better you will be. It is better if you enjoy cooking, because results will show passion, dedication and will simply taste awesome !
A non-believer ?
Try it. You will be pleasantly surprised.
Nothing fancy, just simple, healthy, fresh, home-cooked meals; anyway you like to cook it.
Oven bake instead of deep fry to minimise calories; baked fish, baked meats, baked vegetables – all easily done & with the timer set, you can leave it to cook without a worry.

Stir fry anything you want.
Vegetables, meats, rice, or veggies with meats – another 'one wok wonder' created! Simple !
Tried steaming ?
Another easy means to cook up a storm – steam fish with choice of herbs and spices, splash of soy; steam mix vegetables; steam chicken fillets with a dash of hoi sin or oyster sauce … the list is endless.
How about popping your spiced beef or chicken chunks into the slow-cooker overnight and wake up to a fragrant casserole bubbling in the kitchen – just delicious !
Tried cooking curry in the slow-cooker ? Just add coconut milk when you are ready to heat and serve to avoid curdling – result ? Sensational and perfect for cool winter weather !
Make chunky vegetable soups with or without meats, in your slow cooker overnight and store balance soup stock for noodle soup on another day. Or freeze balance stock for future use.
You can also stew your meat short ribs in the oven – just add enough water and stock to ensure enough moisture is always in the dish, allow enough time and you will have tender, melt in your mouth meats for dinner !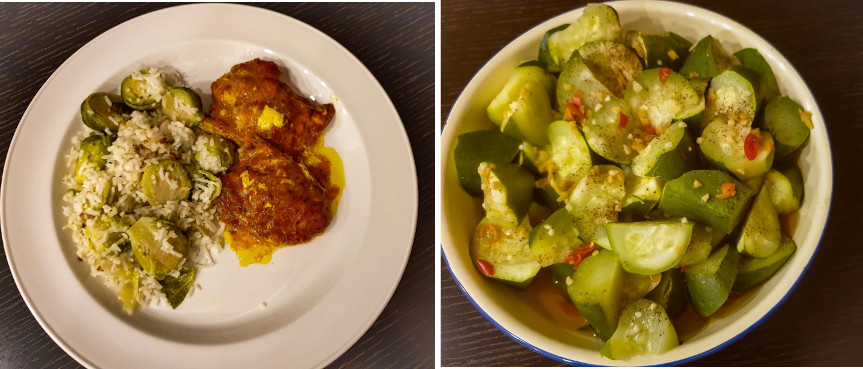 Rice, potatoes or bread ? All good if taken in sensible portions.
Stick scored spiced potatoes in oven with baked meats; baked savoury bread slices or garlic rolls …
If you have a rice cooker, how about savoury rice with your favourite herbs and spices … or maybe coconut and brussel sprout rice … ginger and lemongrass rice … mixed veggie and rice … list is endless, again !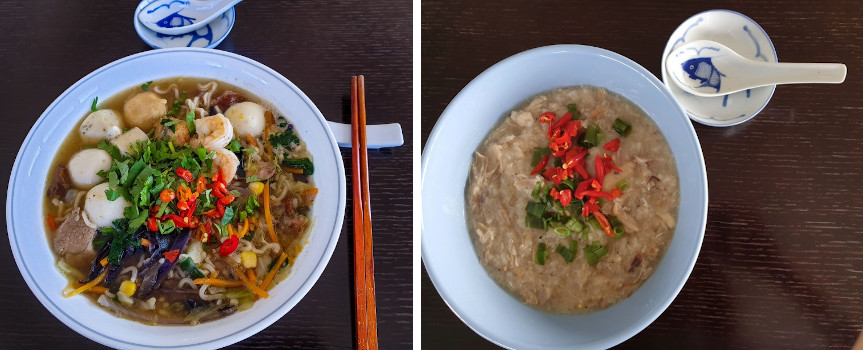 But if you are short of ideas, or just not too bothered with your meals, check out what supermarkets have to offer and with some simple additions and variations, you can still have delicious meals for everyone to enjoy !
Of course, it will be healthier, without additives or preservatives; fresh and exactly what you want – if you bought and cooked it yourself !
Now, isn't that something …
Who says dine-in is tedious and boring.
P.S. Above dishes were created and cooked by me … ferociously devoured by us !