Autumn has finally arrived, chasing away hot, balmy summer days – perfect time for long lunches amidst cool breezes and warm comradery …
Meet up with friends … cancelled.
Social gathering … cancelled.
Computing class … cancelled.
Photography excursion … cancelled.
What?
COVID-19 is what has happened!
Shortage of toilet paper, paper products, hand wash products in supermarkets …
Normal people behaving abnormally…
Unprecedented, surprising events unveiling daily on TV …
Latent panic behaviour unfolding before our eyes …
COVID-19 is an inconvenient ailment – but it is here & we have to exercise caution …
Caution with personal hygiene …
Caution with food handling …
Caution with touchy feely interaction …
Caution with how we sneeze & cover our mouths …
Wait, isn't this what we should do as a matter of course?
How is it different from what is expected of us, every day?
Ah, so this is no new revelation …
What should we do?
Listen to daily news events to be fully informed, not misinformed.
Observe personal hygiene rules or refresh your memory on what they are …And Do It !
Assist elderly family members and friends with their needs and more importantly, be positive and happy!
We are social beings – phone family and friends for a chat;
Tell them you are OK and inquire if they are OK.
Everybody's got to eat and eateries need to survive.
Support local eateries, cafes, restaurants or they won't be there when COVID-19 finally disappear.
Order take-away or organise deliveries … if they are still open – with ever-changing news updates, we may have to cook at home instead!
In the meantime, we can reminisce …



Dream of casual setting, relaxed ambience, dining at Raby Bay Harbourside, South East Queensland always brings back fond memories of fresh, flavoursome coconut-crumbed prawns, or pad thai from Thai Inlay; Noci or Mamma Mia for pasta and pizza; sushi, sizzling teriyaki or ramen noodles from Sushi Lovers; Samson's fish and chip meals and oysters; Fiction Bistro and Bar for juicy steaks cooked your way, or all-time favourite salt and pepper crumbed calamari; Hogs, Crusoe's, Bayside Chinese – list is endless.
Rapid Lunches at Fiction, Lunch Specials at Hogs and Thai Inlay … yummy and cheap too!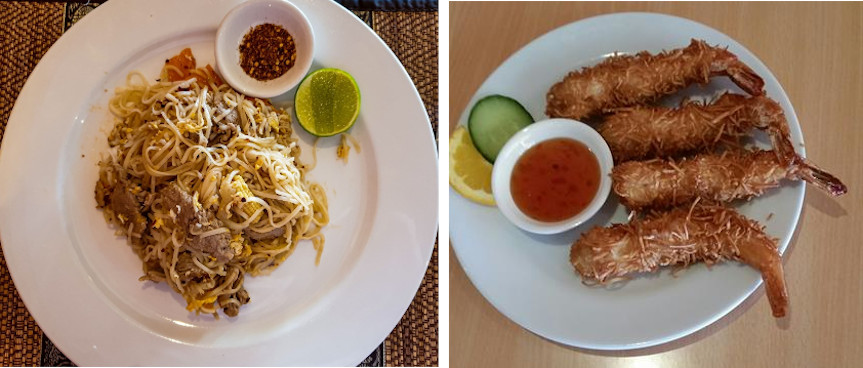 Fancy something hot and spicy?
Maharaja Indian Restaurant serves up flavoursome Lamb Sagawala, tender lamb pieces cooked in spinach curry – best of 2 staples – meat and veggie in one dish; or Mughlai Chicken Curry, succulent chicken pieces cook in traditional spices, both served mild, medium or hot. Don't forget choice of naan breads – cheese and chilli, garlic and cheese or any combination you can imagine.


Comfort foods for these tough times!
In Fishing Boat Harbour, Freemantle, Western Australia, fishermen work on nets, pulleys, hoists but you can dine in a range of eateries – elegant, casual or laidback …
Savour rich, hearty Seafood Chowder loaded with fish, prawns, calamari and mussels; or Chargrilled Mackerel and Chips at Joe's Fish Shack.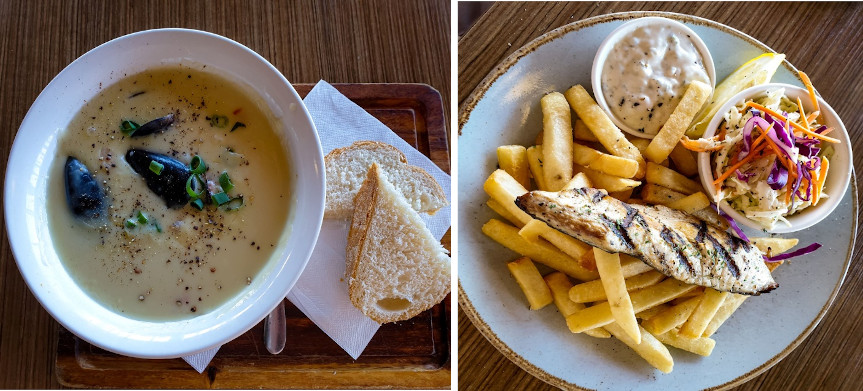 Laidback dining at Cicerellos Fish and Chips, choice seafood, burgers, fish and chips; or elegant dining at Cha Cha Restaurant and Bar at end of boardwalk, opposite Bathers Beach House.
Or just take-away fish and chips to nibble along shoreline on Bathers Beach … sandy beaches, blue waters, simply bliss!
Be warned – servings are large; but you will enjoy every mouthful whole-heartedly!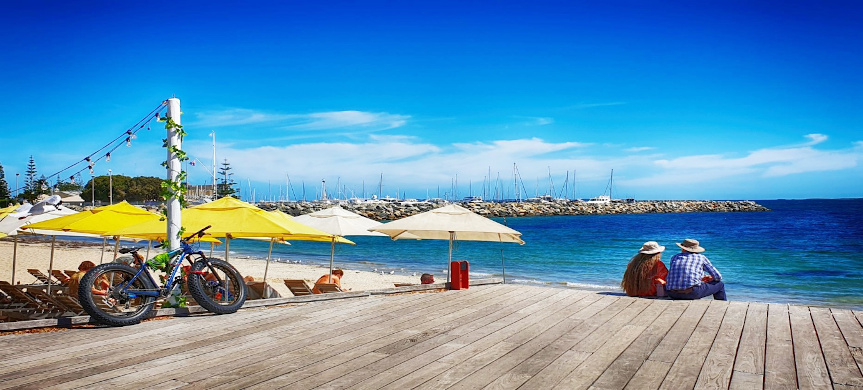 Still dreaming … something elegant yet relaxed dining?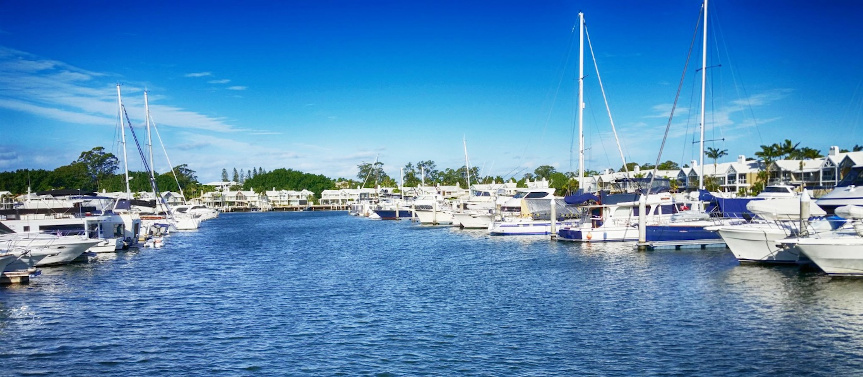 Look no further than Georges Paragon, Sanctuary Cove – all-time favourite restaurant for freshest King Prawn Cocktail, BBQ Baby Octopus, Avocado Prawns or taster plate '5-in-1' for starters.
Garlic Prawns in brandy cream sauce on bed of rice; Skandali – Fish of the Day topped with prawns in creamy sauce; Lobster Tail, BBQ King Prawns; hot and cold Seafood Platter for 2; chicken or juicy steaks cooked your way …
Finish with New York style cheesecake, Sticky Date Pudding or Crème Brule served with cream and ice cream …

Just heavenly!
Feeling peckish?
Hope so … as we ride out COVID-19; think of local businesses who depend on us for their survival –
Unable to go for dinner? Order take-away instead…
Wherever you are … Support your local businesses through these tough times!