Indulge in your favourite water sports … or laze around and do nothing at all …
Your choice of food decadence … or unwind with amazing body massages …
Flex your muscles with shopping therapy … or just work on an excellent tan …
There is always something or nothing to do in Koh Samui !
Stretching some 228.7 square kilometres, Koh Samui island is surrounded by pristine turquoise clear waters, warm breezes and stretches of sandy beaches to tempt any sun seeker, or lover of seaside environment.
In fact, the whole of Koh Samui is a seaside resort; ranging from luxurious to self-serviced stays to suit every budget.

For lovers of Thai food, seek out authentic southern Thai cuisine, home-cooked varieties, differing styles – you just have to seek and sample offerings from little restaurants across the island to taste your favourite dishes!
But don't miss The Family Restaurant on Main Street into Fisherman's Village – Anupong and wife Pan serve up a scrumptious Thai meal every time and you will keep returning, every time!
Tucked in a little niche between other little shops, looking very unassuming … a little gem amidst oceans of eateries and local souvenir shops!
Favourite Pad Thai; Cho Chee Fish, fresh steam fish in red curry sauce; Thai noodle soup; Larb Kai or minced chicken salad; Yum Voon Sen – clear vermicelli seafood salad, freshly prepared daily.

Local fresh sauces made by Pan in her kitchen – you can hear the slicing and dicing while waiting for your meal!
With scorching temperatures, refreshing Mai Tai is a must – and Anupong makes a mean one – just right for the occasion …
Or quench your thirst with Anupong's homemade Lemon Ice Tea or local fruit juices – refreshing favourites to enjoy …

Don't forget to check out Friday night market at Fisherman's Village – local food barbequed before your eyes; or plate of Pad Thai cooked right in front of you to your liking! Of course you can also check out sarongs, scarves, shorts, T-shirts or local souvenirs galore – always something for everyone!


Like a more laid-back style of enjoyment – let someone else do the driving?

Don't miss out The Red Baron Sunset Dinner Cruise – Chinese junk-styled ship complete with red sails … 3 hours of blissful entertainment onboard – scrumptious Thai starters – spring rolls and satays … followed by a full dinner of stir-fry meats, vegetables, noodles, fried rice and a range of desserts to tempt the sweet-toothed … refreshing cocktails to purchase, or free-flowing soft drinks, with coffee or tea to complete the evening.

But the most awe-inspiring spectacle is the glorious sunset – with Red Baron chasing it from all angles and perspectives … calming, soothing, amazing scene unfolding before your eyes … simply unforgettable!
Like the brochure says … "No is not an Option!"
Take a private car around the island – visit 12-metre high, 73-stepped ascent to Big Buddha temple; view over 100-year old Goddess of Mercy statue amidst a pond full of huge Koi fish at Wat Laem Suwannaram. Check out recently added (2008) 16-metre high Guan Yu Shrine; walk to Namuang Waterfall originating from mountain in central Koh Samui … cascading 30 – 40 metres into a plunge pool … or view the over 30-year old Mummified Monk in Khunaram Temple. Check out amazing rock formations along shoreline, or just soak in the view of longest beach on Koh Samui – 7km of white sand, crystal clear waters at Chaweng Beach view point.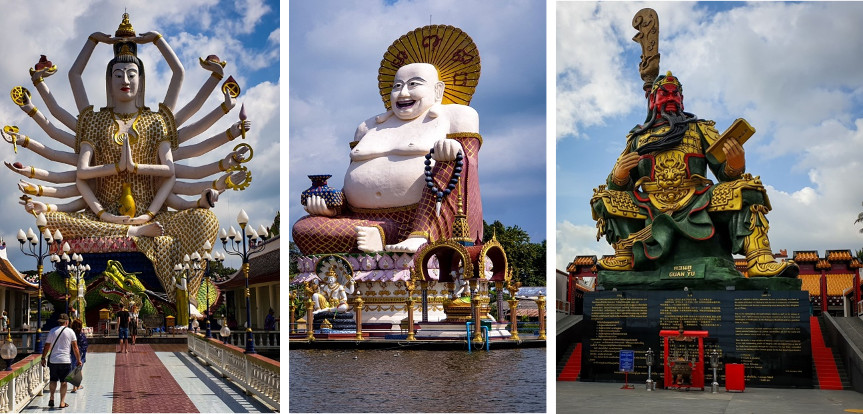 Not enough? Need for more thrills?
Book a kayaking, snorkelling, diving, swimming and more sightseeing trip around Angthong Island National Park around Gulf of Thailand – island hopping through some of the 42 islands around the archipelago for a day … you will not be disappointed!


Relaxing holiday … doing nothing, great massages, sampling endless varieties of local specialities, island-wide, daily … appreciating polite, smiling faces, gentle, well-mannered locals … is the most delightful experience of all that is Thailand!