… Relaxed Al Fresco Dining … La Bella Italian Café


Italian food; almost everyone's favourite … pizza, pasta, veal or seafood … always something to tickle your tastebuds!
Tucked in a corner, on 99 Bloomfield Street Cleveland; with an open courtyard, La Bella Italian Café welcomes diners to savour wholesome, Italian food … casual dining at its best!
Owner chef, Joshua Vanderkolk, together with Chef Joseph Alhalaby, brings their passion and love for quality home-style Italian food to Cleveland – and locals love it!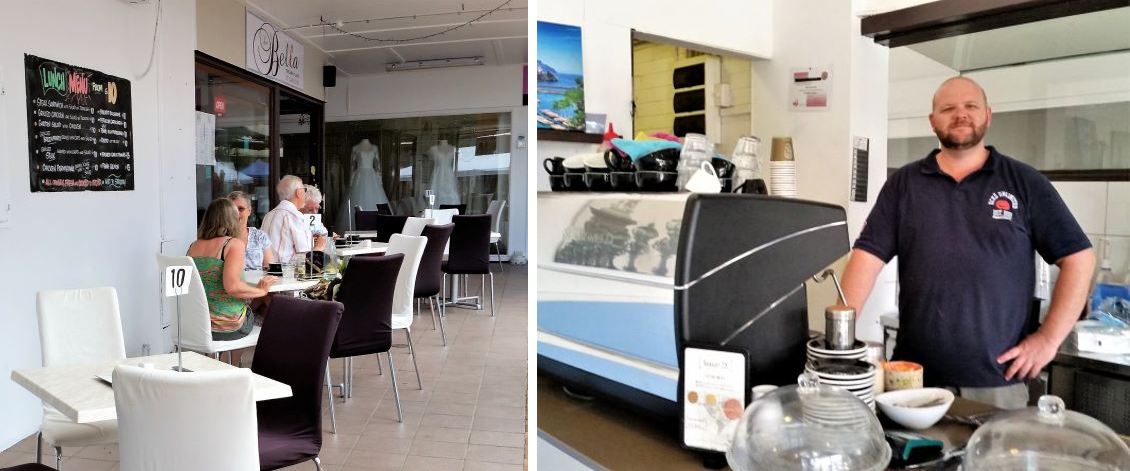 You can simply taste fresh, quality cuisine served – Bruschetta topped with tomatoes, basil, olive oil and balsamic glaze, calzone, garlic cheese or olive fetta pizza breads …
Caprese Salad – slices of fresh roma tomatoes, bocconcini cheese topped with basil and drizzled with olive oil; or check out 'melt in your mouth' grilled baby octopus Mediterranean style, served with salad and chilli Napoli.
Grilled Haloumi, crumbed Calamari both served with seasonal salads – tangy freshness mixed with cheesy haloumi or juicy calamari bursting with flavour in every mouthful.
Hearty pizzas loaded with bacon, prawns, olives, garlic bocconcini sprinkled with capers (Caprese); or simply with fresh tomatoes, basil and cheese (Margarita); vegetarian or traditional Hawaiian, there are choices to suit every taste!

You cannot pass up the Pasta – Carbonara … egg, bacon, parmesan, cream; Pollo Pesto … chicken, pesto, sundried tomatoes, garlic cream sauce; ever popular Spaghetti Marinara … freshest seafood, garlic, white wine sauce;
Risotto Con Funghi Pollo … chicken, mushroom cream sauce; or Risotto Vegetarian in Napoli Sauce. All-time favourites to be sampled; not necessarily all in one sitting.

Indulge in Misto di Mare, served with a twist … king prawns, calamari, baby octopus, mussels lightly grilled with chef's blend of olive oil, garlic and herbs; traditional Garlic Prawns … pan-fried king prawns flambéed with brandy, garlic cream sauce, served with rice and salad;
Or Fish of the Day, currently Barramundi fillet served with sweet potato pumpkin-potato mash, topped with tender vegetables and grilled capsicum …
Check out Veal Mushroom, Veal Napoli or Filetto Chef … eye fillet cooked the way you like, with king prawns in garlic cream; or Filetto Con Funghi, eye fillet served with mushroom garlic cream sauce.
Leave room for dessert – Tiramisu to die for … sponge fingers soaked in expresso, mascarpone mousse and chocolate shavings;
Homemade Sticky Date Pudding with salted caramel; Chocolate Profiteroles, custard cream centres, chocolate sauce with chocolate ice cream … absolutely decadent and yummy!
And finish with a cup of expresso, cappuccino, flat white, long black or whatever takes your fancy!
Thank you, Josh and Joe for bringing a piece of Italy to Cleveland !
We will be back – again and again!
La Bella is open for breakfast on Sunday, lunch weekdays and Saturday, dinner Wednesday to Saturday.
But Josh will cater for any special breakfast, lunch or dinner events;
Make enquiries to Josh on 07 4388 0001; he will look after you!
Be sure to book to avoid disappointment.