Most striking impressions are endless white sandy beaches … beautiful scenic walks … clear blue waters … magnificent inland lakes … rocky outcrops … 4-wheel driving … sand boarding … surfing … swimming … hiking … or just relax and do nothing … that is the allure of this Island in the Sun.

Where is it
North Stradbroke Island, 'Minjerribah' or Island in the Sun, first discovered by Matthew Flinders in 1802, home of Quandamooka Peoples for over 25,000 years, part of Moreton Bay Marine Park is just 30km (19miles) southeast of Brisbane, Queensland, Australia.
Natural Geography
Originally one island, split in 1895 after violent storms into North and South Stradbroke Islands, separated by passage known as Jumpinpin; North Stradbroke Island, or North Straddie to locals is home to rare, endangered land and sea creatures; secluded habitat, mostly Ramsar wetland (recognized under International Ramsar convention); includes remnant of rainforest at Myora Springs, with over 18 species of land mammals including wallabies, kangaroos, echidnas (spiny ant-eaters), koalas and bandicoots (omnivorous rat-like marsupials).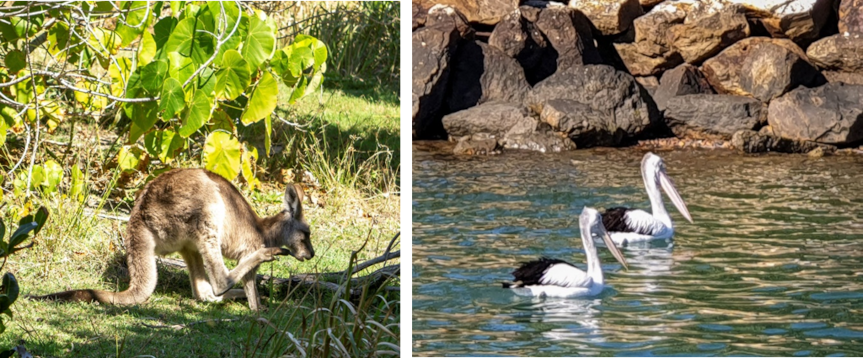 World's second largest sand island, 275.2 sq. kilometres (106.3sq. miles or 68,000 acres); with 3 small townships – Dunwich, Amity and Point Lookout; with lakes and beaches along most of seaward coastline surrounded by rocky outcrops at Point Lookout overlooking Pacific Ocean.
Perfect spot for short break, holiday or day trip!

Soak in cultural heritage, historical experiences at Island Museum, indulge in a bit of fishing, enjoy dolphin encounters or just walk along endless beaches dotted everywhere and daydream a bit … Bush walks for the adventurous into Naree Budjong Djara (My Mother Earth) National Park which covers 50% of island, take in sand dunes, wetlands, endangered heathlands and numerous freshwater lakes.
Habitat
Nature's paradise for sea and land inhabitants – one of three inter-tidal areas of seagrass, mangroves and saltmarsh on Australia's east coast, North Straddie supports lots of visitors – marine turtles such as Green Turtles, Leatherback Turtles, Hawksbill Turtles, manta rays, dugongs, one of largest congregation of bottlenose dolphins and most concentrated migration of humpback whales between May and November around Point Lookout.
Do you know North Stradbroke Island is one of the feeding areas for threatened marine turtles and is visited by 6 of world's 7 marine turtle species ?
Numerous stunning bayside and tidal flat beaches stretching endlessly – perfect for relaxing long walks, though swimming is recommended at patrolled beaches only or designated enclosed areas. Main Beach, 32 kilometres of sandy beach – great surfing spot, Cylinder and Home Beaches for protected swimming; Deadman's Beach with rock pools and Flinders Beach for fishing and beach camping.

With over 100 freshwater lakes and wetlands, dependent ecosystems where communities of mangrove, paperbark and surface-water fauna are sustained, including over 34 species of migratory wading birds.
Two largest lakes are protected – Blue Lake ('Karboora' or deep silent pool) and Brown Lake ('Bummiera') – perched lake retaining water due to layers of leaves lining lake floor.
Cultural History
Both lakes are of cultural significance to Quandamooka Peoples – Blue Lake and Brown Lake are acknowledged as home of large carpet snake – jargon, spirit yuri Kabool. Main resting place is 'Karboora' (Blue Lake), but spirit can travel between both lakes. According to custom, both lakes should be approached with sense of reverence, caution and respect. Calm, still waters indicates that it is okay to proceed, ripples or disturbance is a warning from jargon not to proceed further.

"To the community, it was a ritual to stop, call out, observe, and the practice gave acknowledgement and respect to the lakes and yuri Kabool that lived there. From Quandamooka Dreaming, by Sandra Delany".


Getting there
Stradbroke Flyer water taxi provides free shuttle from Cleveland shops bus stop in Middle Street, 15 minutes before water taxi departures.
From Brisbane you can catch a train to Cleveland station, take the Stradbroke Flyer as above, or drive to Toondah Harbour, Cleveland, park and catch a ferry to North Stradbroke Island or take your car with you on vehicular ferry.
Conclusion
Easy spot to get to, so much to see and do; experience is simply unforgettable, with endless variety of activities suitable for everyone. With so much to explore … so little time … you will just have to return again and again for yet another wonderous adventure in North Stradbroke Island !
Visitors – Please take only pictures, leave only footprints and kill only time.
P.S.
The Traditional Owners of Minjerribah, consists of three clans that comprise Peoples of the Quandamooka. They are Nughi of Moorgumpin (Moreton Island), Nunukul and Gorenpul of Minjerribah.
The Quandamooka People, people of the sand and the water.