Sand, sand everywhere … sandy tracks; large, exceptionally large bumps and dips throughout the island. Challenging 4 x 4 drives that is K'gari – Fraser Island, world largest sand island.
Spanning over 123 km (76.4 miles) length and 22 km (13.7 miles) width at widest point; area of 184,000 hectares; about 3 hours' drive north of Brisbane, Queensland. World Heritage listed by UNESCO in 1992, in recognition of its natural values.
Access by ferry crossing via north Rainbow Beach – a truly beach to beach affair … you board ferry along the beach and alight ferry along the beach !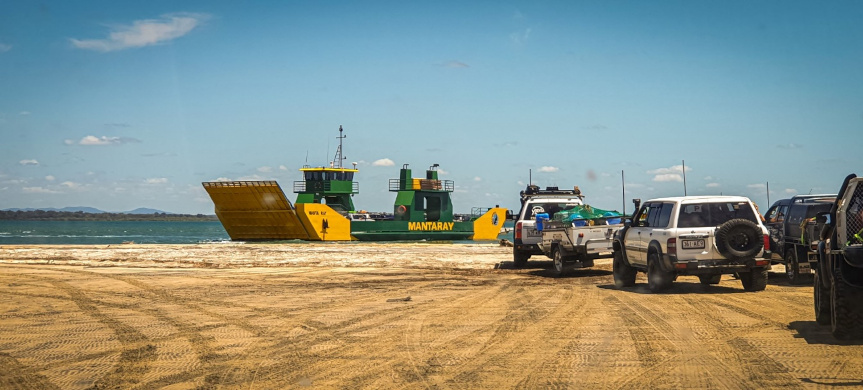 Exhilarating beach drive on arrival, the 'smoothest' drive on the island; taking sights of rolling waves, deep blue sea, occasional convoy of vehicle sharing the beach …
Landscape always changing as sand is displaced and replaced … dune systems created and re-modelled … over and over again.
Exposed, hardened landscape of iron and coal deposits creating myriad of colours set amongst green vegetation, barely clinging onto sandy cliffs …
Amazing natural wilderness, unspoiled, protected environment, bird life, wildlife and marine life in their natural habitats.

Dynamic landscape of overlapping shifting sand dune systems over 700,000 years conceal and reveal unique geological history – the longest and most complete age sequence of coastal dune systems in the world.
Amidst bumpy rides are little gems of beauty – pristine pools of crystal clear waters, gently descending into depths of deep blue still waters in Lake McKenzie, 150 hectare area, over 5 metres (16.4 ft) depth and 100 metres (over 328 ft) above sea level – perfect for a refreshing dip !

Trek along sub-tropical paths beside shallow clear stream; with overhead canopy of tall trees, scuttling spiders, curious lizards, large and small, turtles bobbing heads out of lakes to investigate visitors … some are deadly, others harmless.
Do you know that there are 47 species of mammals, 354 species of birds sighted, over 75 species of reptiles, 19 kinds of snakes calling Fraser Island home? This does not include dolphins, dugongs, turtles, rays, frogs and migrating humpback whales in the oceans !

Learn about early days of Butchulla Nation, indigenous people of Fraser Island, their way of life, history told over generations by word of mouth. "K'gari" means paradise is the Butchulla people's traditional name for Fraser Island.
If you are lucky, local dingoes may pay you a visit along the shore … keep your distance for safety of both parties !

Check out most obvious Maheno shipwreck along the shores – stuck on the beach and stayed there since 1935 – constantly eroded by smashing waves …
There are 23 recorded shipwrecks in Fraser Island's waters, even though there were 2 lighthouses in operation at the time – The Sandy Cape Lighthouse and smaller light on Woody Island.

There are a variety of accommodation on Fraser Island – from 5 star resort, mid-range motels, budget camp sites or camp amongst the stars – 'bring your own camp' and stay by designated beach side areas dotted throughout the island.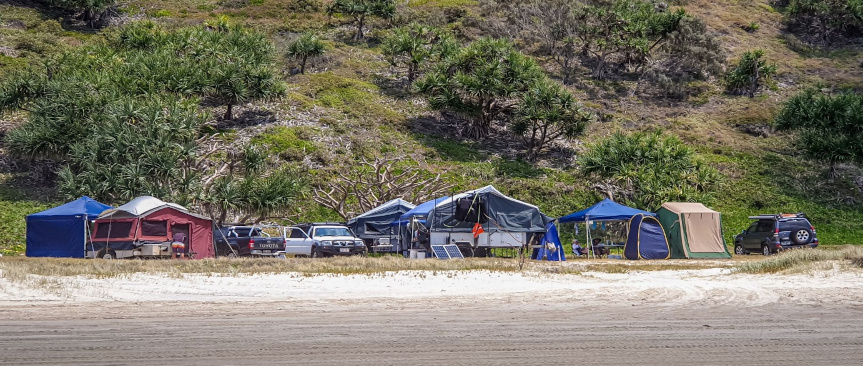 Watch powerful waves splash against cliff walls of Champagne Pool of clear blue waters – not for the faint-hearted as thunderous waves beat against rocks and shore … best swim within the pool embankment.

There are lots of trekking trails throughout the island, varying in lengths and challenges for the enthusiasts.
Trek towards the deepest lake – Lake Wabby or green lake, named because waters reflect a green-glow amongst sand dunes and luscious trees and shrubs … be one with nature … amongst tall trees, dense ground cover …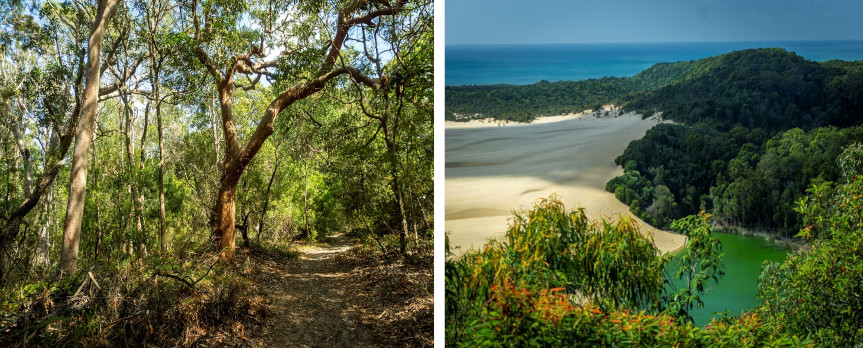 But nothing can beat the magnificent sunset along shoreline !
Radiant colours of red and gold splash across scattered cloud and skies … waiting for sun to dip gracefully towards horizon … slowly but surely, fanfare of colours all around … perfect end to a tiring day of driving and sight-seeing … a cool beer in hand, of course …
It is not always possible to see an amazing sunset, as Mother Nature can be flippant … but when she turns on her magic, it is just impossible to ignore !

This amazing natural wonder is right in our backyard … just a few hours out of Brisbane city, yet a completely different environment, almost in a different era, untouched by man (as much as possible), yet able to be enjoyed by all … careful to preserve fauna, flora, vegetation, trees, big and small, natural inhabitants, deadly or harmless … Fraser Island, largest sand island in the world.
There is an Eco Code for Fraser Island " … take only photographs and happy memories … Leave only footprints …"