Happy Coffee? Yes !
Made with dedication and passion … stronger … weaker … low fat … soy … just the way you like it !
And with a smile every time !
Not just coffee, there's a variety of teas, normal and organic as well !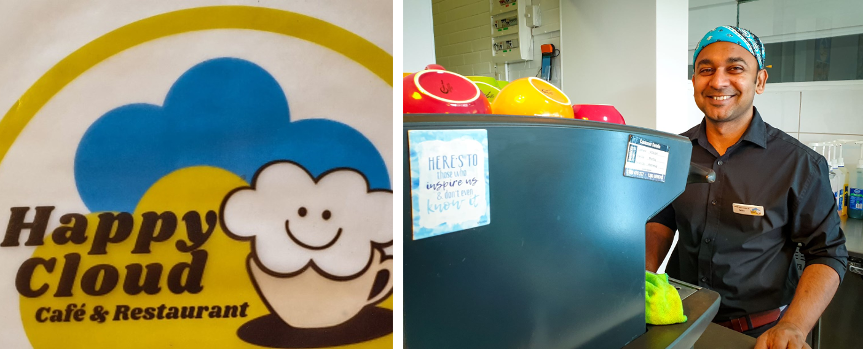 "Good morning Niki …" "Good morning Nitin …"
"How are you today? Come in; have a seat … the usual?"
"Coffee in a mug … strong, no froth?"
"Yes thanks … and cheese toast too !"
Acknowledged by first name … specific taste requirements … all with a smile !


Tucked in Metro Arcade, Bloomfield Street, Cleveland; Nitin, Rhea and their team work endlessly but always with a heart-warming smile to serve up Happy Coffee; delicious breakfast and yummy lunches every day !
Happy Cloud Café relocated from Woolworths' forecourt, Cleveland Central to larger premises; offering more food selection, from larger kitchen, cosy courtyard, stones' throw from Redland Council offices.
This means more extensive breakfast and lunch selections !
Healthy or hearty breakfast?


Chose from Hunger Buster – double bacon, 2 sausages, 2 fried eggs; hash brown, spinach, tomato, toast with tea or coffee and orange juice …for those who like a big breakfast …
Eggs Benedict – 2 poached eggs, sautéed spinach, hollandaise sauce on toasted Turkish bread …
Eye Opener – 2 fried eggs, 2 slices of bacon, hash brown, grilled mushrooms, tomato, 2 slices of toast …
Or smoked salmon, cream cheese bagel … or yet again, maybe ham and cheese, fried egg croissant …
Or raisin, cinnamon or vegemite toast for something simple and light …
Decisions … decisions !
Or a combination of your favourites – just let Nitin and team know to satisfy your cravings !
Check out Lunch-time Specials …


Home-made Tandoori Chicken Burger – tandoori marinade, grilled succulent chicken fillets, served with fresh lettuce, cucumber slices, onions, avocado (when in season), sauce, chips and soft drink;
Or Boerewors Roll – South African beef sausage, fried onions, mustard and ketchup in a roll; chips and soft drink;
And kids get Happy Face Pancakes; a free cup to hold your choice of drink !
Try Chicken or Bacon Open Grill – chicken or bacon, cheese, spinach, sundried tomatoes, onion slices, topped with pesto on Turkish bread …
Or variety of 'Grab N Go' sandwiches if you are short of time.
Did I mention that breakfast is around all day?


Yes, you can still have your favourite breakfast for lunch if that is your desire …
And don't forget the desserts …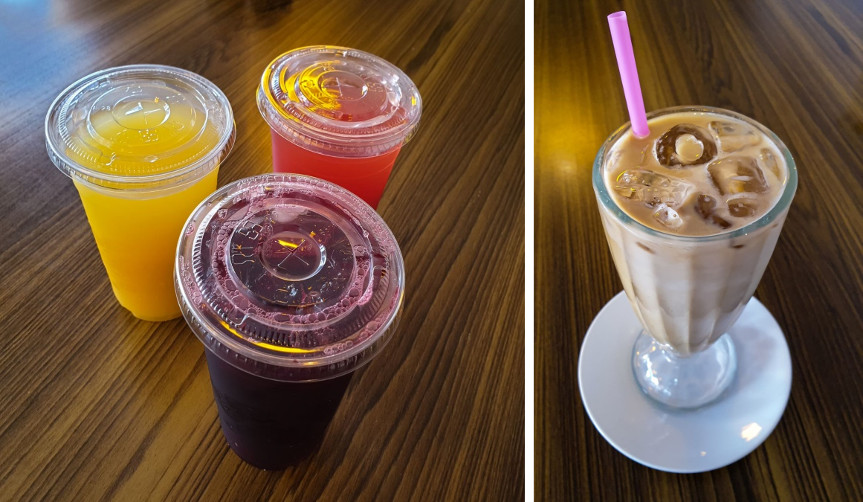 Try the awesome, organic, all natural Orange juice, Mama Mia and Aztec Blood fruit teas … absolutely refreshing!
Mama Mia – made with strawberries, pineapple, raspberries and white tea; Aztec Blood – made with Hibiscus flowers, cranberries, cornflower petals and jasmine flowers … served chilled – perfect for a hot summer's day!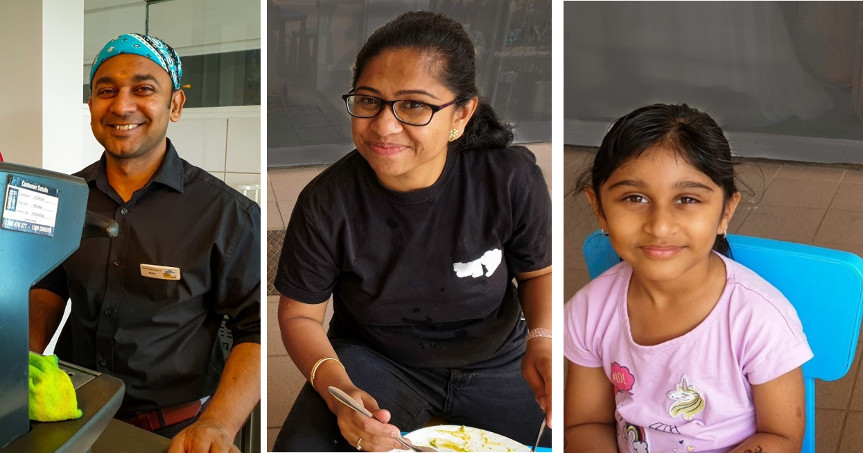 Originally from near Goa, India; Nitin, Rhea and Shubi, their daughter moved to Brisbane over 11 years ago. Part-time involvement in the fast food industry led them to take over Happy Cloud Café about 2 years ago.
Could not have come to a better place for lifestyle change; appreciative, friendly clientele in a happy community.
Regulars from the Cleveland Walking Group and all who appreciate good service, great food … served with a smile; will continue to return regularly …
A great venue for meeting friends, make new friends, entertain more friends; with quality food and happy coffees and teas, hot or cold !
Happy place … for Happy Coffee and Happy Meals …
Thank you Happy Cloud Café – we will keep coming back !