Warmest Hospitality … Superb Food … Beautiful Beaches …
Fancy a short break? Of course you do … at least once a while …
Fancy a 'value for money' short break? Now we are talking …
Long sandy beaches hug Bali's coastline – popular island destination in South East Asia, attracting sun-worshippers from all over the globe.
Why is it a popular tourist destination?
Casual atmosphere, relaxed environment, easy-going lifestyle, warmest hospitality that is Bali; not to mention superb Balinese food, mildly spiced, freshest ingredients from local markets, cooked and served immediately.

Water sports haven – para gliding … water skiing … rafting … snorkelling … jet skiing … river tubing or donut call to avid holiday makers.
Or, just lie on the beach and do nothing – re-charge and relax.
This idyllic island offers varying comforts of relaxation based on your budget and style of enjoyment … but one thing remains constant – high quality of warmest hospitality is tremendously consistent.
That is what keeps visitors returning to Bali.

Balinese culture and custom offers a calming environment, serene, harmonious ambience to everyone within its influence. You are made to feel at home immediately … with warm smiles and helpful guidance;
… The effect is infectious – you unwind automatically …
Chat to locals; see their way of life – easy living, peaceful outlook; one with environment. Let this harmonious ambience wash over you; surrounded by luscious tropical greenery, colourful, enticing blooms; afternoon rains, replenishing, re-vitalising; a welcome reprieve from average temperatures of 35⁰C (95 ⁰F) and daily humidity of about 90 – 95%.
There are numerous resorts in Bali to suit any budget – for my short break, I stayed in mid-sized Holiday Inn Resort Benoa overlooking Tanjung Benoa beach. Staff ensured you are not left out of any activities – friendly calls to check up on your well-being; taking time out for friendly chats around the resort, making sure your meal is just right – little things to ensure your comfort – all adding up to a memorable stay. You can join in the numerous activities in the resort, or just veg out and relax in comfort of your room …
Or unwind with a Balinese massage – the ladies worked wonders with their hands …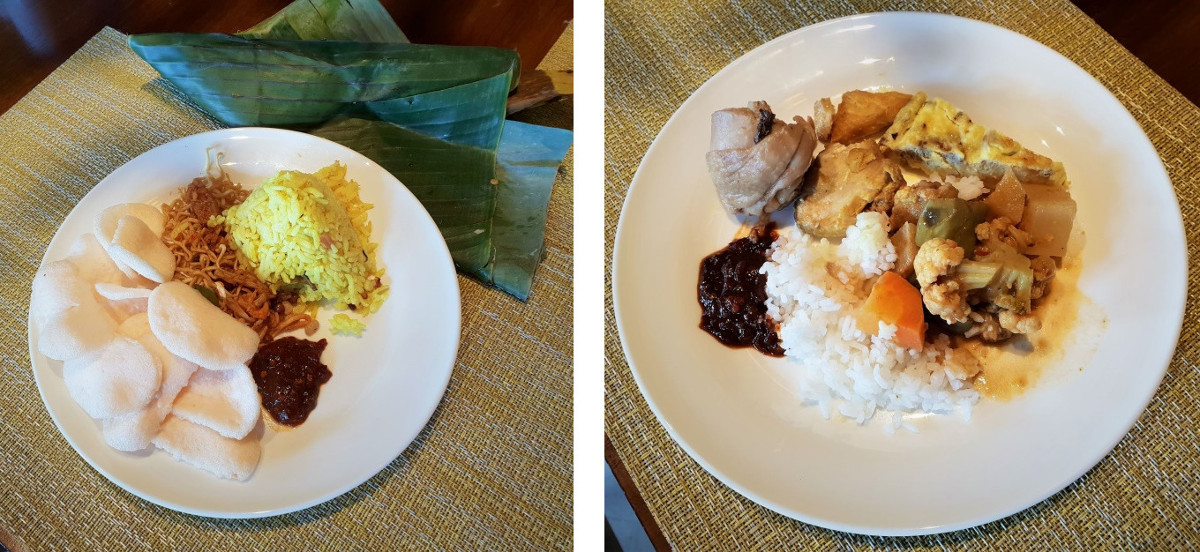 Enjoy Nasi Kuning – yellow rice flavoured with turmeric, curry leaves, assorted spices, cooked in coconut milk, served with roasted peanuts, fried onions and shredded chicken; sambal (chilli paste), thinly sliced tempeh or bean cake and prawn crackers; wrapped in fresh banana leaf. This traditional rice is also used in the 'Kuning Ann' Hindu ceremony.
Another must try is Nasi Uduk – rice cooked with cloves and lemongrass; usually served with either chicken or fish lightly spiced; eggs and vegetables.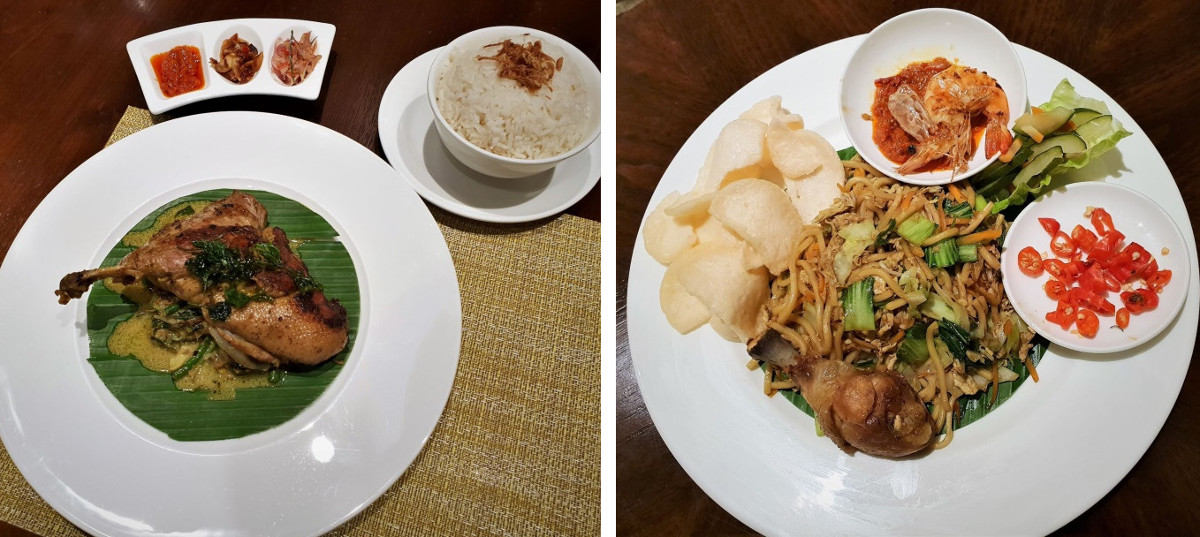 Savour Bebek Betutu, twice cooked local Balinese duck, 'melt in your mouth' tenderness, mildly spiced; served with vegetables cooked in spiced coconut sauce, served with fried shallots, sambal and steam rice. Or snack on Balinese Mee Goreng, complimented with fried chicken, prawns and prawn crackers.

Join in the Thursday afternoon cocktails hosted by the resort – everyone is invited to enjoy local cocktails, alcoholic or non-alcoholic; sample Balinese canapes and chat with other residents or the locals on what is on offer – taste Arak (local fire-water) mixed with orange juice and lime… share amusing stories … and have a really enjoyable afternoon.
You will not be disappointed – everyone just makes you feel so welcome … part of their family …
To all Holiday Inn Resort Benoa staff – 'Banyak Terimah Kaseh!' (Thank you so much) …
… Your warm hospitality … your consistent patience and smiles …
… Your excellent food made my stay absolutely memorable …
,,, And wanting to return …