Situated in the central region of Italy, Tuscany's rolling hills, artistic heritage, sandy beached coastline, coupled with a Mediterranean climate offers a beauty blessed by nature …
Dotted with UNESCO listed heritage sites, medieval towns, castles, country churches and ancient abbeys, you can get lost wandering through, feasting on the natural beauty that is Tuscany.

See Medieval Towns of Siena and San Gimignano …
Siena is a vast hilly landscape, in central Tuscany, about 322m above sea level.
Bring good walking shoes and lots of energy when you visit.
On UNESCO World Heritage List, Siena was settled around c. 900–400 BC …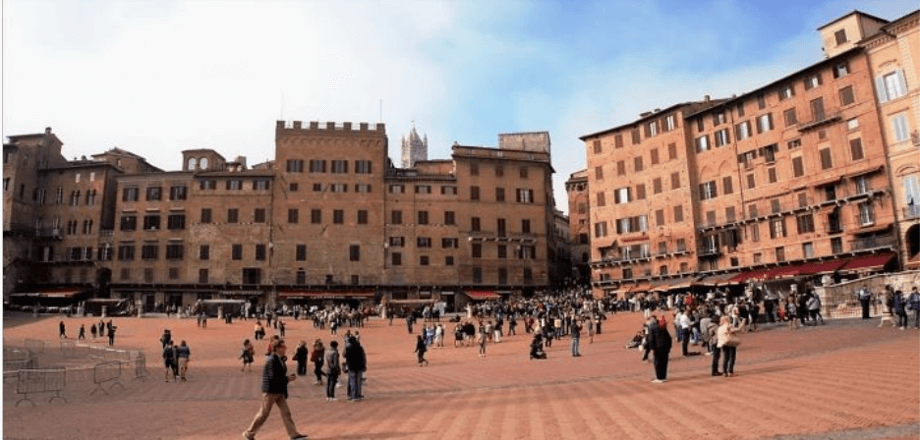 The open shell-shaped central square, Piazza del Campo encompassing Palazzo Pubblico (town hall) and Torre del Manqia, a 14th Century tower …
Sienna's 17 historic 'contrade' (wards or districts) extend outwards from the piazza.
Visit this famous open theatre is where the Palio horse race run twice a year, on 2nd July and 16th August.
A hotly contested horse race, the 17 contrade, represented by animal mascots; identified by plagues on building walls at eye-level along the streets, raced to cheering crowds to ultimate victory.
Only 12 of the 17 contrade are able to participate in the Palio; drawn by lottery; with lots of politicking; alliances and promises exchanged prior to race day – in ancient tradition, as in present day – with passion and 'serious fun' …
Formed originally as battalions for the city's defence, the winner receives a painted banner or 'Palio' bearing an image of the Blessed Virgin Mary …
… And glory of being the champion for the next 12 months!
Lots of merry-making, bravado, beers, wines & food to celebrate the winning contrada!

Visit San Gimignano, a smaller, walled, medieval hill town in the region, characterised by its towers and 'tower homes'. Another recognised UNESCO site famed for its medieval architecture of Roman and Gothic styles.
The historic centre of San Gimignano is also known for saffron, golden ham and white wine. Take in the sight of vines growing on the gently sloping hills, green against the near-cloudless blue skies … with San Gimignano atop, overlooking with vigilance.
The 'Vernaccia di San Gimignano' from the ancient variety of Vernaccia grape grows on sandstone hillsides of this area. With no irrigation, Tuscany relies completely on its Mediterranean climate to enrich its agriculture – most years are good, sometimes with either too much or too little rains …
Do you know that only descendants of the original inhabitants are permitted to live in these medieval towns?
Check out a Saffron Farm … and stay for lunch!
Learn how the saffron plant is grown, how it is harvested, prepared and packed for local consumption and export.
Saffron is one of the most expensive herb in the world – with a short growing season, flowers yielding the strands of saffron, are all hand-picked, manually graded and packed for sale.
It is an extremely labour intensive process.

Sample saffron infused ravioli served in delicately spiced saffron cream sauce; and finish with home-made saffron ice cream and coffee!
An experience not to be missed!
Savour the 'Best Gelato in Italy'
… In the walled mountaintop town of Volterra …
Dating back to before 7th century BC, this walled mountain-top town of Volterra, reminiscence of any other medieval town in Italy – with a difference.
Together with its historical sites, piazza and cathedrals, Volterra also is the home of the 'Best Gelato in Italy". This little shop has held the title for 3 years running … a definite must visit when in Tuscany.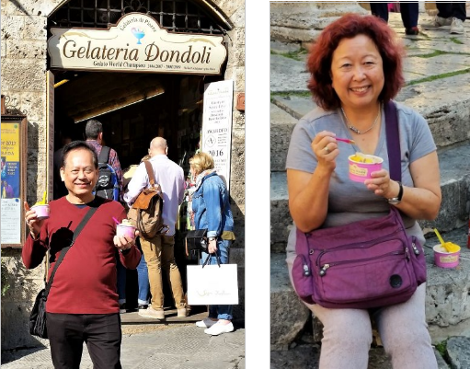 The shop is 'Gelataria Dondoli', serving delicate and tangy; creamy and decadent gelato – the seasonal range of flavours is limitless … any time of the year.
Pistachio, hazelnut, tiramisu, lemon and mango are all time favourites … to be joyfully sampled!
No matter which flavour you select … you just have to sample and judge for yourself!