Been on a Mystery Trip ?
Brave enough to let go of the reins & let someone surprise you instead? Well, there is always a first time to experience this exciting and fun event !
Kept wondering all the way … guessing what route driver is going to take … is he turning left, right or straight ahead … heading north, south or west …
Suspense … slowly builds …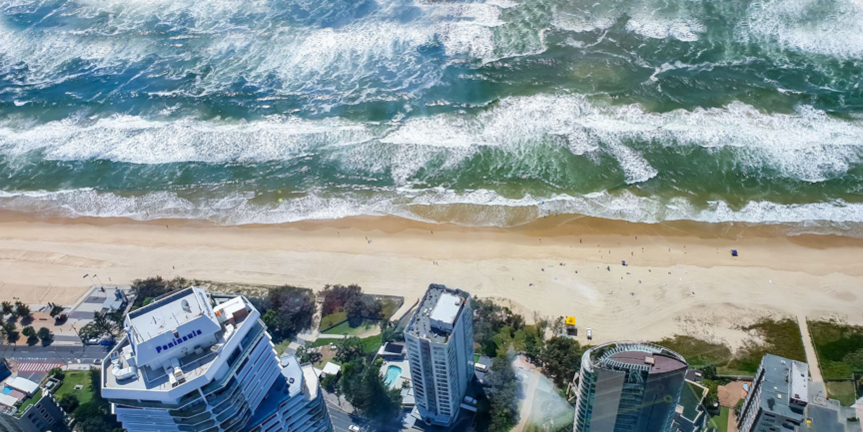 Reached destination – but forgot name of building – shock, horror … it is Q1 in Gold Coast, 6th tallest building in the world, tallest residential tower in Australia.
Easy ride to 77th floor in 42 seconds … was still a bit suspicious of what is going to happen on arrival … ushered to our reserved seating overlooking Gold Coast shoreline.
Beautiful day, sunshine peeking through clouds; breath taking views of ocean, waves crashing along the beach; sandy coastline in front of tall skyscrapers amongst high-rises dotted as far as the eye could see. Hinterland was just as impressive – lagoons, man-made canals with mansions, more high-rises, luscious parks, fields, playgrounds dotted around.

Then there was The Morning Tea … to die for !
Gourmet sandwiches, open sandwiches, scones, fresh cream and jam; variety of petit fours (French style mini cakes); assorted fruits, mini doughnuts, beautifully served on platters; with coffee or tea. Non-stop platters upon platters just kept coming …
Definitely needed a break after that !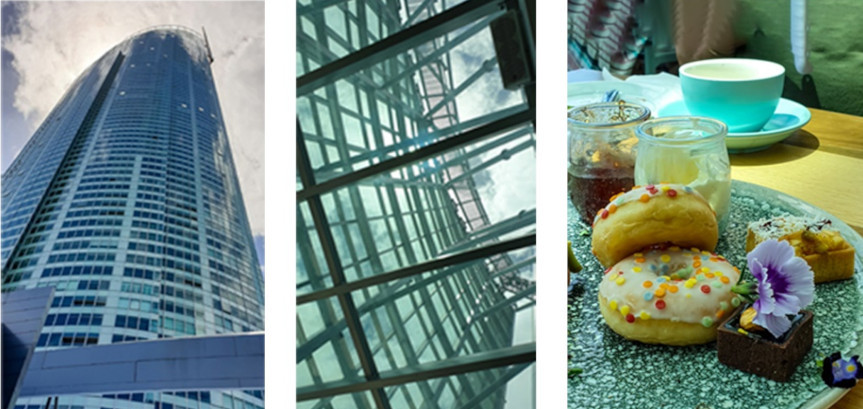 You can brave the height and walk up to the observation deck on 78th floor, series of guard rails, secure walkways for the strong-hearted to savour what it is like to be 'on top of the world'; or just take a leisurely walk around the tower; take in 360° views, identify and read about each location in comfort of air conditioned environment and solid ground.
Back on the bus and off to another mystery venue … for lunch !
Yes, wondered how to fit lunch in after that sensational morning tea … uhmmm life can be very, very tough indeed !
More guessing, but to no avail – after several twists, left and right hand turns; totally lost and disoriented, we arrived at … The Gold Coast Motor Museum !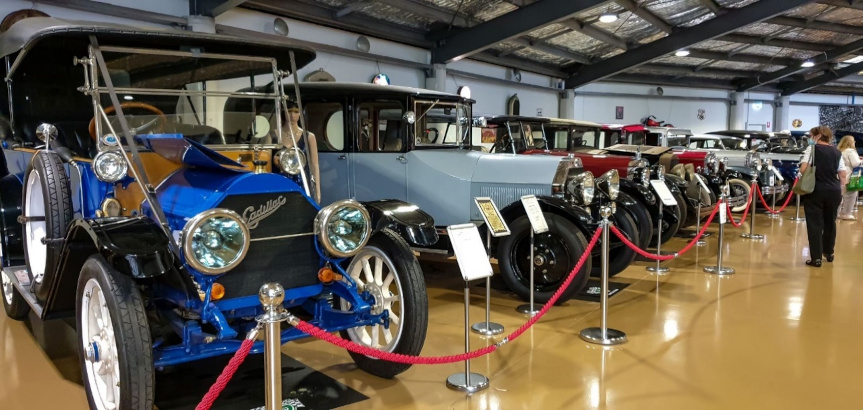 Most surprising collection of vehicles, motorised and non-motorised varieties. Set in Gold Coast Hinterland, surrounded by native trees, greeneries; this recently opened car haven houses cars from 1911 to 1988.
From Elvis' and The Monkees' touring cars to a 3-wheeled BMW (looks like the Go-Go Mobile); vintage Fords, Jaguars, Rolls Royce, Sports cars, motorbikes, horse drawn buggies, push bikes, historic telephones, tins, tools, miniature liquors and period fashion – all on display, fond memories for some of us.
What a treat !



Then to Stanleys Barn, restaurant adjacent to Museum, where lunch was served … all too soon.
Choice of fish, chips and salad; chicken schnitzel, chips and salad or steak, chips and salad was served with soft drinks or hot beverages. A challenge to fit it all in, but it was done … yet again !
Extremely proud of oneself !
Finally, it was back on the bus, satisfied and fulfilled … reminiscing over the amazing morning tea; magnificent views … vintage cars, buggies and bikes … culminating in the scrumptious lunch.
Great Mystery Trip !
Many thanks to Donald Simpson Centre, Cleveland and the volunteers who made it happen. Lucky to be part of this great community of friends and comrades; sharing in love of day trip travel, visiting places around us, supporting locals in those places and having a good time !
P.S. Donald Simpson Centre opened in 1987 is supported by State, Local Governments and community donations, provides a venue for social, intellectual and physical activities for seniors and future seniors of Redland and neighbouring communities.
Centre has a large auditorium, activity rooms, café serving delicious hot and cold meals, beverages for meetings or informal gatherings. Lots of activities are conducted in the Centre from arts, craft, wellness, exercise, to sports, dancing, day trips and away tours.
You can find out more at Home – The Donald Simpson Centre.