Chianti Classico … Nectar of the Gods …
Thousands of years nurturing; viticulture (science, production and study of grapes); wine appreciation is bred into the Italians … it is in the blood … in the heritage, dating back to 8th Century BC.
The wines of Tuscany are no exception – favourable hilly terrain, well-drained soil … Mediterranean climate … no irrigation … Sangiovese grapes are grown in their full glory … maintaining a balance between sugars, acids and aromatic qualities …

The vintner or winemaker makes wines originally for family consumption … but today, with science, successfully markets them for sale – locally and internationally.
No pretence, no arrogance – it is either a good crop with an excellent wine to appreciate and share; or an average crop, best drunk quickly, or blended, drunk quickly and move on to the next crop.
Nowadays, notable Tuscan wine regions are Chianti, Brunello di Montalcino, Vino Nobile di Montepulciano producing Sangiovese grapes and Vernaccia de San Gimignano, producing the Varnaccia grapes.
Tuscany is also known for dessert wine, Vin Santo; made from a variety of grapes within the region.
Grapes of northern and eastern regions tend to ripen slowly, producing more perfumed, lighter wines. Southern and western regions are warmer; wines tend to be richer, more intense.
What does DOCG mean?
DOC on an Italian wine label mean Denominazione di Origine Controllata, and DOCG signifies Denominazione di Origine Controllata e Garantita.
DOCG is superior to DOC – Italian government's guarantee of the wines' origins.
What makes Chianti?
Chianti Classico is a DOCG wine, showing unique peculiarities and characteristics.
It is not enough to be produced within Chianti region to be called a 'Classico'.
Classico wine has to respect specific rules.
Its blend is 80% Sangiovese, red grape typical of this area, 20% of other grapes including native grapes, Canaiolo and Colorino, as well as international varieties such as Cabernet Sauvignon and Merlot.
Characterised by a clear ruby red colour; floral notes; harmonious, dry and pleasant flavour, with tannin. Minimum alcohol level should be 12 degrees.
Best Sangiovese grapes produces Chianti Classico Riserva – deep ruby red colour; minimum 24 month maturation; including three months of bottle fining; 12.5 degrees minimum alcohol level.
Rumoured that once you taste Chianti Classico wines, you will never forget it … you just have to try and find out for yourself!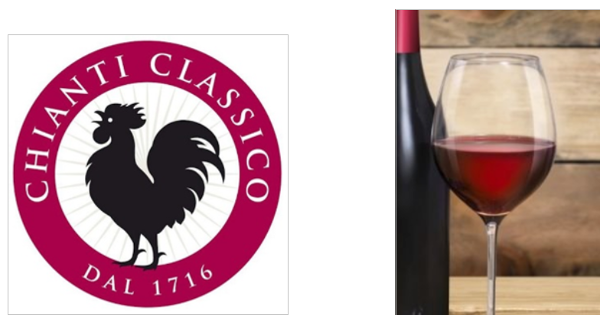 The Chianti Classico seal, recently changed in 2013, is a black rooster (Gallo Nero in Italian) on a white background with a Bordeaux coloured frame. You can do wine tasting at wine bars or 'enoteca'; enjoy a tasting organized at restaurants, combined with a full-course meal, giving you the chance to appreciate each wine at its best.
Or enjoy sampling local wines by taking either a private wine tour or an organised wine tour – no drinking and driving!
Join a small group wine tasting tour organised by Tuscan Escape, a specialist travel agency focussing on small group tours in Tuscany.
Dedicate the whole day to wine appreciation; travel to three different winemakers in Chianti, offering a variety of wines to tantalise your palate.
Stop at CASTELLO DI BROLIO – a rural castle and gardens in Gaiole, Chianti; about 20 km north-east of Siena.

The castle belonged to the Ricasoli family for nearly 800 years.
It is also the birth place of Chianti Classico.
Castello di Brolio dominates southern Chianti Classico countryside for over ten centuries. Sitting atop an isolated hill; of Lombardic origins; with some new Gothic re-construction in the 1800s.
Apart from grapes, bee-keeping for honey, olive groves for olive oil is scattered all over the countryside.
Bettino Ricasoli was the first to create the recipe for great Chianti Classico wine – the mix of three different grape varietals … to produce Chianti Classico DOC up to 1967.
A pioneer in developing the Italian wine making industry.
CASTELLO DI AMA
Still in Gaiole, visit Castello di Ama winery – a sprawling estate of vineyards, olive groves and rolling woodlands – under the management of Marco Pallanti and his family growing Sangiovese, Merlot, Chardonnay and Pinot Noir grapes.

It is under Marco's leadership that all wines labelled with 'Riserva' must be tasted, and approved by a Consorzio panel.
Marco is also the pioneer of the 'open lyre system 'of planting – vine foliage trained into V-shaped vertical canopies, increasing fruit quality and yield.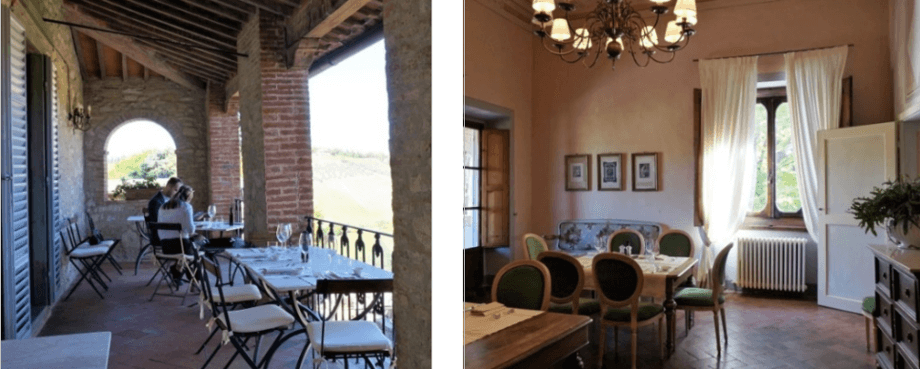 Dine in the 18th century villa or on the restaurant terrace; enjoy rustic dishes – vegetables grown in the kitchen garden, hand-made pasta … accompanied by Castello di Ama's Chianti Classico.

For entrée, sample home-made Lasagne with Porcini Mushrooms (pictured above left) – light sheets of hand-made pasta filled to the brim with porcini mushrooms in a light cream sauce, mildly spiced with garden herbs – the taste just lingering in your mouth. Don't pass up the Grilled Chinina Beef (pictured above right) from local famed Butcher Chini for your main … the meat just melts in your mouth … juicy, tender, and magnificent!
If you love Tiramisu … Giovanni's Tiramisu will not disappoint … served in a cup lightly dusted with chocolate … a great dessert to complete a fantastic meal at Castello di Ama.

Apart from vineyards; the olive groves of Ama offers a relatively low yield oil, but is compensated by delicate, fruity and elegant extra virgin olive oil – quality yet prevails …
And you can taste the difference! Yummy …
MONTE CHIARO
Nestled against a background of rambling vineyards yet again, knock on the doors of Monte Chiaro, in the late afternoon. The internal courtyard will take your breath away … familiar yet unknown … casual yet tasteful … Monte Chiaro welcomed like you are old friends …

In 1720 the Griccioli family bought historical Monte Chiaro estate, a seventeen century villa surrounded by a medieval village, 10 km from Siena; in 2005, Alessandro Griccioli took over the reins of business. Today, Alessandro and his team offers a range of organic extra virgin olive oil, organic wines, 'Arteliquida' a yearly visual expression of 'art and wine', beautiful countryside and comfortable Tuscan villas rentals.
The organic boutique winery still uses traditional methods in wine-making … with scientific expertise to blend and create a speciality range in a competitive wine market …
Old oak barrels mingled with stainless steel tanks … traditional implements sit next to technology … Monte Chiaro combines history with science to create their unique blends of wines.

You will feel at home when taken through the boutique winery … settle in for a chat and taste of what is on offer … intense … rich ruby red, bouquet of violets, cherry, blackberry … full bodied yet accommodating to the palate … sweet spices, chocolate, with a hint of coffee … gently clings to the glass … the wine, Primum Vinum gives a new elegance to Tuscan wines.

A signature wine … selected from best vineyards … of at least 15 years old … handpicked and carefully selected …to make Primum Vinum.
Perfect with rich-flavoured foods, wild game & herbed cheeses …
You could just drink it all day … and be very content …

With a small output each year, Primum Vinum wines are sold locally and overseas – a niche market.
The highlight of a day in Chianti …
Ultimately, it is not which wine is better… it is which wine is more palatable – to you …
Enjoyment of good wine … with good food, good company, pleasant surroundings …