Whilst Australia is renowned for long sandy beaches; endless summer, clear blue skies … she is also famous for some of the best beef known to man !
Cattle Farms
Cattle capitol of Australia, Rockhampton or Rocky to locals, along Capricorn Coast of North Queensland; offers a truly paddock to plate experience – a must to explore and enjoy.
Surrounded by several cattle farms, about 30 minutes' drive from Rocky, lies open grasslands where herds of cattle roam; grazing on rich volcanic soil, thousands of years in the making … nurturing rich vegetation … lazy Hedlow Creek meanders through, perfect location for acreage beef cattle farming in Northern Queensland.

Cattle farming is an art and a science, 5th generation family owned commercial beef cattle estate, Henderson Park Farm Retreat, will attest to. Lots of hard work, lots of learning and re-applying of science and experience to breed optimum beef cattle of Brahman influence.
The farm also offers beautiful and scenic retreat to experience farm-life, along banks of Hedlow Creek, with bushwalking, canoeing, swimming, culminating with evening campfires. They are also a function venue, catering for corporate functions and weddings with beautiful sunset backdrop beside the creek.

Juiciest Steaks
However, most memorable part of visit is the ultimate food experience on offer in this region.
Beautiful meats, mainly beef, but lamb and pork are also on the menu – tender and succulent; locally grown leaf and root vegetables, tropical fruits, fresh herbs, spices and native bush tucker …
Australian gourmet at its best !
Start evening with a cooking demonstration by chef using local ingredients – made 'Sang Choi Bau' or Pork in Lettuce Cups … with a chef's twist – personal and delicious !

Melt-in-your-mouth Banana Station Beef Short Ribs, twice-cooked with Thai-style 'sam rot' or 3-flavoured sauce (sweet, tangy and spicy sauce); dash of chillies … ribs totally soaked with delicately flavoured sauce, Thai Salad, topped with fried shallots.
Porterhouse Steak, char-grilled to your taste, over curried potato croquettes, pickled beans, condiments and topped with beef jus – simply yummy !
Must try the fresh Black Pepper Tagliatelle Pasta, served with High Valley Dawn slow cooked beef-lamb ragu, topped with Pecorino Cheese. Delicate and delicious !
Or you could settle for good old BBQ Mix Grill – juicy steak cooked the way you like, pork belly with crispy crackling, rotisserie roast chicken, chunky potato salad, farm-grown fresh salad with tangy garlic-coriander topping, crusty sourdough bread. Wholesome and satisfying !

Sustainable Food Forest
Whilst all meats are from local farms … all greens, herbs and spices are sourced from High Valley Dawn Farm, short distance from restaurant.
Truly 'paddock to plate' experience – after farm visit in afternoon; then sit down to dinner and sample the same local produce just visited.
What a treat !

High Valley Dawn Farm is a sustainable market garden forest of locally grown fruits, vegetables, herbs and spices from all over the world, with special emphasis on tropical Australian natives and bush tucker. Lots of local and exotic veggies … lots of very interesting bush tucker to check out !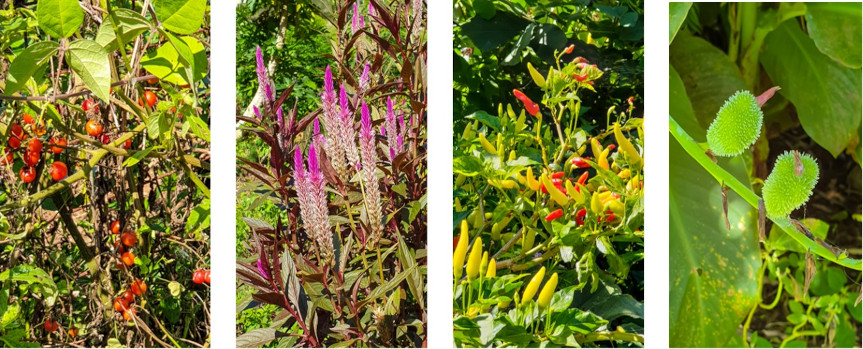 Conclusion
Take a trip to North Queensland – see beautiful countryside, dotted with large cattle farms, sustainable market gardens pioneering organic leaf and root vegetables, herbs, spices, bush tucker all growing alongside each other. Taste beautiful melt in your mouth steaks, crisp-skinned pork, slow-cooked lamb in restaurants dotted around Rocky.
Great way to relax … enjoy food and country !