Bottle of water … tick!
Comfortable walking shoes … tick!
Light cardigan … tick!
Lippy … tick!
Wallet and backpack … tick!
Hand sanitiser … tick!
Ready to explore exciting Moscow in a day … tick!
Over 800 years of history … where to start?


Right in centre of Moscow city is cobblestoned Red Square; surrounded by imposing crimson walls of the Kremlin, rainbow coloured domes of St Basil's Cathedral, and sombre Lenin's Mausoleum – where most of Russia's historical events unfolded.
Good start point and is also the hub of social activity – home to festivals, markets and celebrations for visitors and locals alike.
Commissioned in 1500s, by Ivan the Terrible, St Basil's Cathedral, with onion-shaped domes were designed to take on shape of flame on a bonfire.
Legend had it that the Tsar thought it so beautiful that he orders the architect blinded so that he would never surpass this creation …

The Kremlin, biggest active fortress in Europe is now open to the public … pass through 2,235 metre-long Kremlin walls … 5 squares to wander through … numerous offices, 20 towers … world largest bell and cannon …
Snapshot into Russia's imperial past … the Tsarist influence … grand palaces … current seat of power…


Visit GUM, Moscow's main department store … stunning interior built between 1890 and 1893 … previously known as the Upper Trading Rows till 1920s … now home to over 200 boutiques and variety of eateries …glass-roofed arcade faces Red Square.


Grab a pirozhki (Russian fried bread); stroll through Moscow's premier green space – Gorky Park and lunch amongst all sorts of entertainment – outdoor dancing … yoga and fitness classes in summer … beach volleyball, ping-pong, rollerblading, skateboarding, cycling trails, open-air movie theatre and boat-rentals in summer; skating rink in winter; or just walk along wide malls, enjoying the sights.
Bask in relaxed ambience that is this vibrant city.

Explore orthodox churches around Moscow, dating back to 15th century … Cathedral of Christ the Saviour, Novodevichy Convent, Church of the Prophet Elijah, Yelokhovo Cathedral are all centrally located around the city. With over 1000 churches and cathedrals in Moscow it is easy stumble into some of them without trying too hard!
Be aware – ladies must be modestly dressed, with head covering; gentlemen should wear long pants, without any head-gear.
Moscow is also home to 17th century mansions, baroque cathedrals, Stalinist-style skyscrapers, constructivist buildings, glass and concrete high-rises …

As sun sets, and dusk approaches, take in the amazing sights of Moscow's metro …countless footsteps all around … people pouring in and out of trains … trains entering and leaving stations …
Moscow has the most crowded metro in the world.
Moscow's metro also serves the largest volume of passengers daily – about 9 million passengers on weekdays … 14 lines and 212 stations on over 360kms (224 miles) of tracks.
44 of these stations are cultural monuments.
First plans dated back to Russian Empire but construction only started in 1931; first stations opened in 1935. First line was part of the red line, 11km (6.8 miles), from Sokolniki to city centre.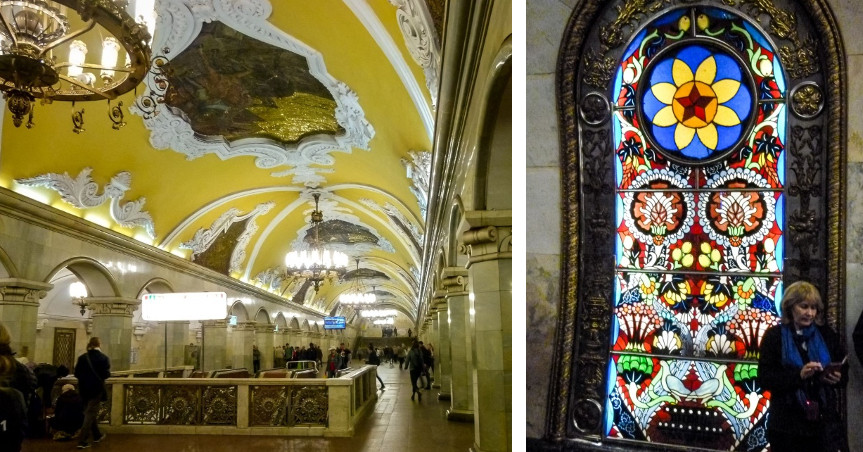 Most iconic is the ring line, tracing the Garden Circle (one of main avenues of city) – makes changing lines exceptionally easy. It was rumoured that Stalin put a coffee mug on the provisional plans, leaving a mark in shape and location of current ring line … and was constructed accordingly; as none dared to oppose the Leader's note …
Today, Moscow's metro is still expanding … but the 44 cultural heritage sites remain as most enticing metro stations to visit.
All too soon, it is nearly midnight; tired from day's sightseeing and wanderings; feasting on wondrous sights Moscow offers to visitors … magnificent architecture, imposing buildings, cathedrals and intriguing metro stations … a day is definitely not enough …
Return visit is definitely on!