'Sculpture should be displayed in conditions especially appropriate … indoors or, perhaps more frequently, in a garden or park setting … open to the sky.'
On rare occasions, we are given a second chance to see or visit a special location … savour the chance … look with different eyes … appreciate with new vigour …
Warm sunshine, cool outlook – perfect day to take another look at Sculpture Garden, National Gallery, Canberra, Australian Capital Territory (ACT).
Created and built over 38 years ago, fast growing acacias complimented slow growing eucalyptus, fragile shrubs and ground covers. Melaleucas, banksias, grevilleas, hakeas and assorted native grasses and groundcovers, informally planted, blossomed and flourish in harmony.
Result – informal, casual, relaxed atmosphere … the Australian way of life.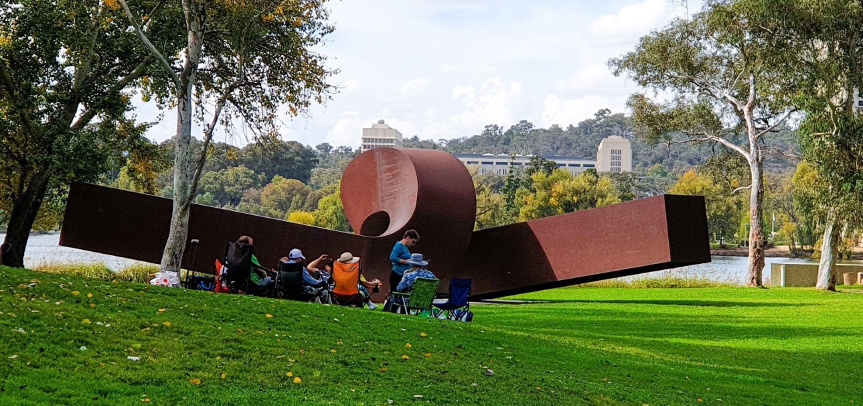 Stroll along gentle slopes, soft velvety grass underfoot, Australian natives surrounded by families having picnics and informal get-together; children playing, laughter and light banter amongst imposing steel structures and unique modern statues.
A restful place for relaxation; quiet spot for lunch break in solitude or family gathering on weekends; amidst Clement Meadmore's rust-red Virginia (1970), enormous curve, thin shell of wielded steel …light and flexible to look upon; sitting on two small points with upturned ends; defying gravity, over 8 tonnes weight; heaviest work of art in gallery.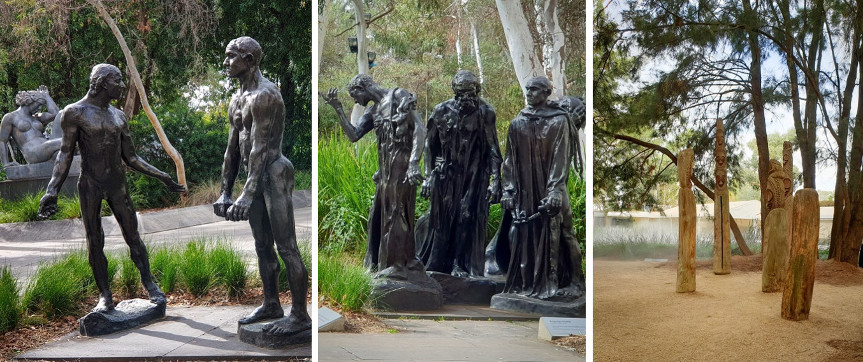 Sculptures and unique works from other modern masters, Henry Moore, Bert Flugelman, Robert Stackhouse, Fujiko Nakaya to Pukamani or funerary poles (grave poles) from Bathurst Island (north Australia) – gifts to please spirits of the dead; and slit-drums (musical instruments) from Vanuatu – from human scale to gigantic; showcasing modern day sculpture from Australia and overseas.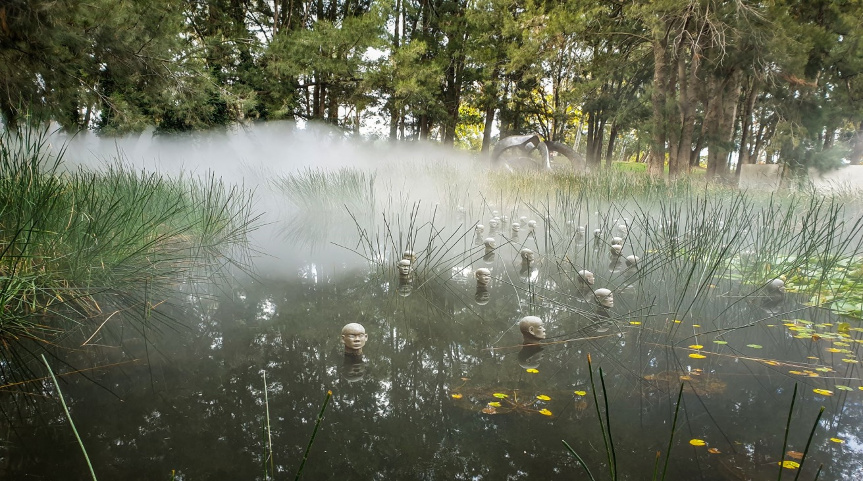 Take a walk through the 'Fog Sculpture' (1976) in the Mash Pond … interactive artwork by Fujiko Nakaya … artwork that shifts and change with wind and time. Eerie mist settling over pathways and Marsh Pond behind … just like a scene out of a scary movie – thrilling kids and adults alike!

Nearby foreground, 'On the beach again' (1984) by Robert Stackhouse has taken on a 'weathered look' but still as grand as when it was installed.
Down towards the Marsh Pond lies a series of sculpture – '66 heads' … positioned around the pond, facing all directions. A memorial to those affected by an unsuccessful military coup in Indonesia (1965); of brutal suppression and mass killings, artist Dadang Christanto, during that time, lost his father, at 8 years of age.
'Heads from the North' (2004) … moving and haunting tribute to lives lost then. …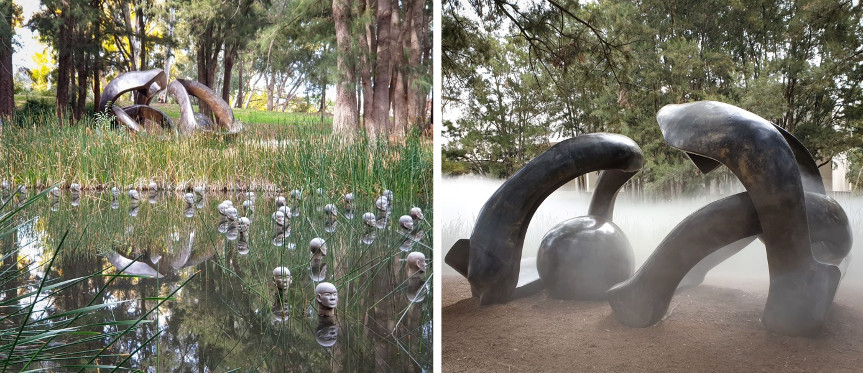 'Hill Arches' (1973) by Henry Moore sits by the edge of Marsh Pond … lustrous bronze surface intentionally played off against pond's surface – distinctively surreal; a reminder of Henry Moore Sculpture Gardens, UK visited in 2017.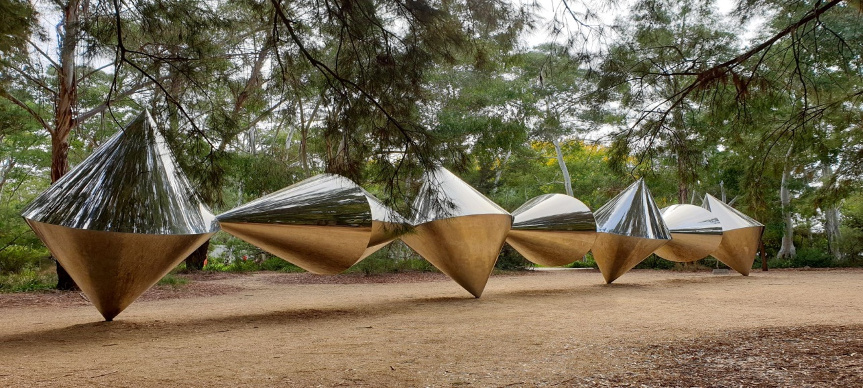 'Cones' (1976/82) by Bert Flugelman – highly polished and mirrored; sharp contrast against gravel surroundings. Angles and mirrors, distortions and reflections against surrounding sky, ground and eucalyptus … and your reflection …
… as you move around the cones … almost dancing across the clearing.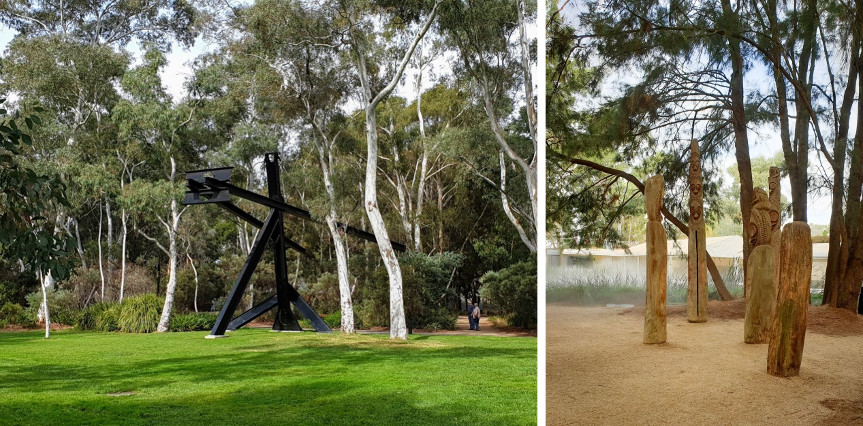 In one with nature, feast on beauty of native trees and shrubs, against scenic backdrop of Lake Burley Griffith … imposing sculptures in multiple mediums, native poles, misty ponds, and eerie ambience …
… a truly surprising and memorable venue for local and overseas visitors alike!