When good food is served consistently; you want to talk about it … spread the good word.
When fresh, tastefully composed good quality food is served consistently for over 12 years … and it is in your backyard … you want to brag about it!
Lighthouse Restaurant Cleveland Point, Queensland … local favourite … boasting fresh seafood … smart casual dining … relaxed ambience … attentive staff … and ocean views to die for.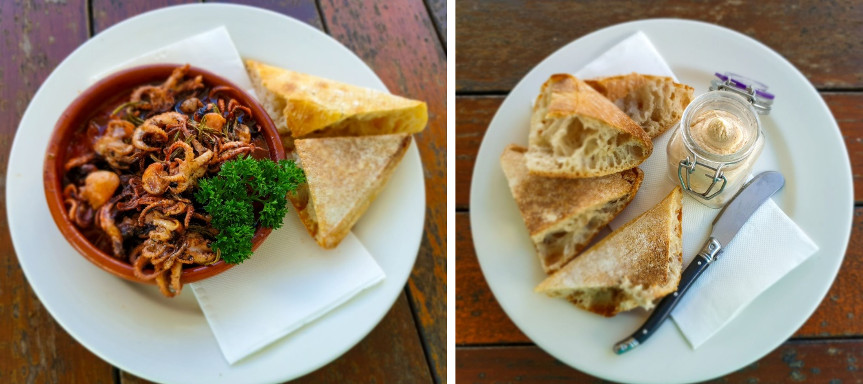 Be ready to indulge …
Char-grilled Baby Octopus over Napoli sauce with toasted crostini to start … tender and grilled, on bed of Napoli sauce … just enough sauce to compliment each mouthful …
Fresh house-made Crab and Smoked Salmon Pate with crusty ciabatta … rich, fresh chunks of crab meat combined with smoked salmon; intermingling of strong and mild flavours … lightly salted and spiced – perfect combination to tantalise your taste buds!
Maybe Smoked Salmon and King Prawn Salad – local prawns, Tasmanian salmon, mixed salad, tomatoes, fresh herb salsa with dressing … then again, Peking-style duck, Asian veggies, herbs, carrots, fried shallots, peanuts over crispy noodles sounds pretty enticing … or perhaps Green-lip Mussels in coconut milk, lemongrass, ginger, chilli, coriander served with crusty bread …
Difficult choice to make, as they are all prepared with passion and dedication … for discerning palate … you can definitely taste it!
And that is a sample of the entrees …
Barramundi atop lentils, quinoa, pearl barley, roasted garlic, with warm carrot puree, sumac and fresh herb oil … skin nicely char-grilled to crispy … meat firm and fresh to taste, accompanied by bed of healthy veggies, with generous dose of herb oil.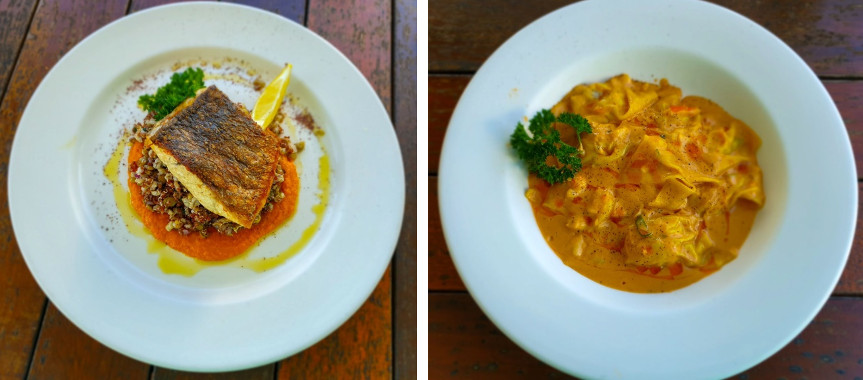 Consider Wild Mushroom Linguine, with spinach, pine nuts, truffle cream finished with pecorino … Tempura-battered Flathead with sweet potato fries and herb mayo … Sand Crab Lasagne – local sand crab and snapper between pasta layers, finished with seafood bisque … whole-baked New Zealand Sole with roast potatoes and salad … Moreton Bay Bugs (similar to baby lobsters) with jasmine rice in chilli, lime and ginger glaze … as well as selection of meats and chicken preparations – menu range suitable for any palate.
Don't forget to check out Daily Specials – local favourite Lobster and Crab-meat Ravioli was on the menu – savour fresh-made lobster and crab meat ravioli served with seafood bisque and crusty ciabatta – delicately spiced, large morsels of pasta stuffed with lobster and crab meat … simply bursting with flavours!
There is always room for dessert in every tummy – Croquenbouche, coffee custard profiterole stack, chocolate ganache and toffee … Warm Chocolate Brownie with salted caramel, Chantilly cream and roasted macadamias … Poached Spiced Pear or Affogato … and coffee or tea to finish this dining extravaganza.

Dessert Photos – courtesy of Lighthouse Restaurant
Select a combination of entrée and main, or main and dessert if not a hearty diner, promising a symphony of flavours lingering after every mouthful … almost heaven on earth!
Of course, this experience should be accompanied by a refreshing glass, or bottle of wine … choices are endless.

Superb food … great wines ,,, fantastic location with amazing sea views … Lighthouse Restaurant delivers a wonderful day of dining pleasure … yet again!
Thank you, Chris and Tim for your continued dedication to give us another unforgettable experience … yet again!